DR Congo polls: Counting halted in parliamentary vote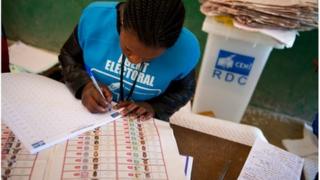 Vote counting in the Democratic Republic of Congo's parliamentary elections has been halted, the election commission has said.
It said it needed international help to complete counting following allegations of rigging in the 28 November polls.
More than 18,000 candidates contested 500 parliamentary seats.
Meanwhile, opposition leader Etienne Tshisekedi plans to inaugurate himself as president on Friday after rejecting the incumbent Joseph Kabila's victory.
These were the first elections organised by the election commission since the end of the war in 2003 - the first poll in 2006 was held under the auspices of the UN.
Mr Kabila was sworn in for a second term on Tuesday after being declared the official winner of the president poll, also held on 28 November.
But Mr Tshisekedi said he was robbed of victory and has planned his inauguration at Martyrs Stadium in the capital, Kinshasa, for Friday.
Western observers denounced the presidential results as seriously flawed, but the commission - backed by the African Union - hailed the polls a success.
The BBC's Thomas Hubert in Kinshasa says several election agents have been arrested for allegedly trying to rig the parliamentary results.
The US-based campaign group Human Rights Watch (HRW) says police have killed at least 24 people since the disputed polls.
Tanks and mortars
Our reporter says there is confusion about the outcome of the parliamentary elections - more than three weeks after they took place.
The commission published partial results on its website on Wednesday, but then removed some of them, he says.
In a statement, it said it had halted counting at 158 tallying centres after many candidates complained of irregularities.
It said it wanted the international community to give "technical assistance" and to supervise the process in order to guarantee the credibility of the elections.
However, it would publish results from 11 tallying centres where counting has concluded and where there have been no complaints about the results, the commission added.
Mr Tshisekedi's supporters have been protesting since the elections, demanding that Mr Kabila cede power.
Our correspondent says his Union for Democracy and Social Progress (UDPS) party has sent out what appear to be official invitations on presidential letterheads, urging journalists and diplomats to attend the ceremony.
Our reporter says it is unclear what will happen as Mr Kabila's elite Republican Guard is deployed at the stadium, with tanks, mortars and machine guns.
Government officials have warned Mr Tshisekedi that he would be committing treason if he inaugurated himself as president.
Justice Minister Emmanuel Luzolo Bambi said his office would investigate HRW's claims, the AFP news agency reports.
"If the allegations are verified, the justice department will take action," he is quoted as saying.
The elections were the second in DR Congo since the 1998-2003 war, which claimed an estimated four million lives.
The last elections, in 2006, were marred by weeks of street battles led by supporters of the losing candidate, Jean-Pierre Bemba.
He is now on trial at the International Criminal Court for alleged war crimes in neighbouring Central African Republic.
DR Congo is two-thirds the size of Western Europe but hardly has any infrastructure, such as roads and electricity.
Inside DR Congo
The Democratic Republic of Congo covers 2,344,858 square km of land in the centre of Africa, making it the 12th largest country in the world.
Eastern DR Congo is awash with a variety of different rebel groups – some have come from neighbouring countries, while others have formed as self-defence groups. Many are taking advantage of the lack of a strong state to seize control of the area's mineral riches.
DR Congo has abundant mineral wealth. It has more than 70% of the world's coltan, used to make vital components of mobile phones, 30% of the planet's diamond reserves and vast deposits of cobalt, copper and bauxite. This wealth however has attracted looters and fuelled the country's civil war.
Despite the country's size, transport infrastructure is very poor. Of 153,497km of roads, only 2,794km are paved. There are around 4,000 km of railways but much is narrow-gauge track and in poor condition. Waterways are vital to transport goods but journeys can take months to complete. Overcrowded boats frequently capsize, while DR Congo has more plane crashes than any other country.
With an estimated population of 71 million, DR Congo is the fourth most populous country in Africa. Some 35% of the population live in cities and the capital Kinshasa is by far the largest, with more than 8 million inhabitants. DR Congo has around 200 ethnic identities with the majority of people belonging to the Kongo, Luba and Mongo groups.
Given its size and resources DR Congo should be a prosperous country, but years of war, corruption and economic mismanagement have left it desperately poor. In 2011 it lags far behind in many key development indicators, with average life expectancy increasing by only 2 years since 1980, after a period when it actually fell during the mid 1990s.