DR Congo police 'killed 24 civilians' after elections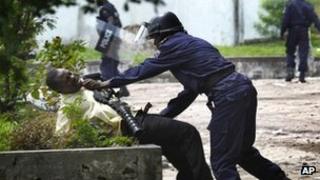 At least 24 people have been killed by police in the Democratic Republic of Congo since last month's disputed elections, a US rights group has said.
President Joseph Kabila was sworn in for a second term this week, but his rival, Etienne Tshisekedi says he won.
Human Rights Watch (HRW) said most of the deaths occurred in the capital, Kinshasa, where Mr Tshisekedi has strong support.
It said it had evidence security forces had tried to cover up the deaths.
The elections were the first to be organised locally since the end of a devastating civil war in 2003, which left some four million people dead.
The results were announced on 9 December, but were immediately rejected by Mr Tshisekedi and his supporters, leading to clashes in the capital.
Western observers said the electoral process had been too flawed to be credible.
HRW said that the deaths and the "arbitrary" arrest of dozens of people appeared to be an attempt by the authorities to stifle protest against the results.
Based on eyewitness accounts by HRW staff and Congolese activists, the group said it had evidence that 20 people had died in Kinshasa, two in North Kivu, and two in Kasai Occidental province.
Among the alleged victims were opposition supporters attempting to protest or simply bystanders, including a 13-year-old boy shot as he was standing outside his home and a woman killed while she was looking for her children.
"These bloody tactics further undermine the electoral process and leave the impression that the government will do whatever it takes to stay in power," said Anneke Van Woudenberg, senior Africa researcher at HRW.
HRW said security forces appeared to be covering up the scale of the killings by removing bodies and telling medical personnel not to give out information about such deaths.
In addition, it accused the Republican Guard - the military unit which is meant to protect the president - of acting outside its authority by arresting civilians and holding them at "illegal places of detention".
"The government should order the immediate release of all detainees in their custody, and undertake an impartial investigation into responsibility for these unlawful arrests and the mistreatment of detainees," said Ms Van Woudenberg.
Mr Kabila dismissed similar accusations made against the security forces at the end of the electoral campaign as unproven.
He has congratulated the police and the army on their patriotism and professionalism in maintaining order before, during and after the election.
Inside DR Congo
The Democratic Republic of Congo covers 2,344,858 square km of land in the centre of Africa, making it the 12th largest country in the world.
Eastern DR Congo is awash with a variety of different rebel groups – some have come from neighbouring countries, while others have formed as self-defence groups. Many are taking advantage of the lack of a strong state to seize control of the area's mineral riches.
DR Congo has abundant mineral wealth. It has more than 70% of the world's coltan, used to make vital components of mobile phones, 30% of the planet's diamond reserves and vast deposits of cobalt, copper and bauxite. This wealth however has attracted looters and fuelled the country's civil war.
Despite the country's size, transport infrastructure is very poor. Of 153,497km of roads, only 2,794km are paved. There are around 4,000 km of railways but much is narrow-gauge track and in poor condition. Waterways are vital to transport goods but journeys can take months to complete. Overcrowded boats frequently capsize, while DR Congo has more plane crashes than any other country.
With an estimated population of 71 million, DR Congo is the fourth most populous country in Africa. Some 35% of the population live in cities and the capital Kinshasa is by far the largest, with more than 8 million inhabitants. DR Congo has around 200 ethnic identities with the majority of people belonging to the Kongo, Luba and Mongo groups.
Given its size and resources DR Congo should be a prosperous country, but years of war, corruption and economic mismanagement have left it desperately poor. In 2011 it lags far behind in many key development indicators, with average life expectancy increasing by only 2 years since 1980, after a period when it actually fell during the mid 1990s.