Rwanda genocide: Ngirumpatse and Karemera given life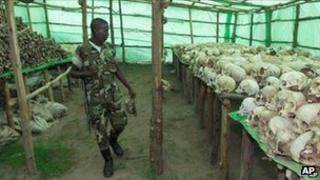 A UN war crimes court has given life sentences to two key organisers of the Rwandan genocide in 1994.
The sentences were imposed on Matthieu Ngirumpatse and Edouard Karemera, two senior members of Rwanda's former ruling party.
They were convicted of genocide by the UN-backed International Criminal Tribunal for Rwanda (ICTR).
In 1994 around 800,000 people - ethnic Tutsis and moderate Hutus - were killed in just 100 days.
The ICTR ruled that Ngirumpatse and Karemera were part of a "joint criminal enterprise" to exterminate Tutsis.
"The court unanimously condemns Ngirumpatse to life in jail," said presiding Judge Dennis Byron, before pronouncing the same sentence for Karemera.
'Girls raped'
Ngirumpatse was the chairman of Rwanda's then-ruling National Revolutionary Movement for Development (NRMD) party and Karemera was his deputy when the genocide took place.
The indictment accused them of bearing "superior responsibility" for the genocide, the Reuters news agency reports.
The ICTR ruled that Ngirumpatse approved the delivery of arms to the Interahamwe militia group at a hotel in the capital, Kigali, in April 1994, the AFP news agency reports.
"At that point in the genocide it could be assumed the weapons were going to be used to kill Tutsis," the panel of three judges wrote in their ruling, according to AFP.
"The court concludes that the rapes and the sexual crimes carried out on Tutsi girls and women by soldiers and militia, including the Interahamwe, are a natural and predictable consequence of the joint criminal enterprise seeking to destroy the Tutsi ethnic group."
The ICTR was set up in the Tanzanian town of Arusha to put on trial those accused of being the ringleaders of the genocide.
Last week, ICTR appeal judges overturned the life sentence given to the defence ministry's then-chief of staff Theoneste Bagosora, said to be a mastermind of the genocide.
The judges, instead, sentenced him to 35 years in prison - a decision which angered some Rwandans.