Kenya planes attack Somali 'militant camp' in Hosingow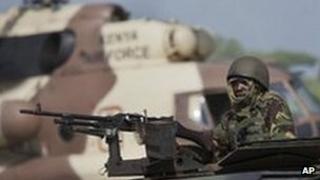 At least 15 civilians have been killed in two air raids on an Islamist-controlled village in Somalia near the Kenyan border, witnesses told the BBC.
Kenya's military confirmed it had carried out two attacks by air on an al-Shabab camp in the area of Hosingow village, killing 17 militants.
Recent grenade attacks over the border near Dadaab refugee camp were planned from Hosingow, the Kenyan army says.
Kenya sent troops into Somalia in October in pursuit of al-Shabab.
It accused the al-Qaeda-linked group, which controls much of central and southern Somalia, of a spate of abductions from its territory - charges denied by the militants.
Al-Shabab has said it views the presence of Kenyan troops in southern Somalia as an act of war.
The attacks happened on Tuesday at 12:00 local time (09:00 GMT) and 15:30 (12:30 GMT), Kenya's military spokesman Maj Emmanuel Chirchir said on his micro-blogging Twitter account.
A senior al-Shabab commander, an al-Shabab administrator and 15 fighters died in the two raids, he later told the BBC.
"There are no civilians that were injured in this incursion," he said.
But a village elder in Hosingow, Abdallahi Abdi Mahad, told the BBC's Somali Service that 15 civilians had died, including a whole family in one house, and more than 20 people had been wounded in the attacks.
Without a hospital in the area, the number of casualties was likely to rise, he said.
He said the first raid was on the outskirts of the village and the second struck the village directly.
"One of the bombs struck near a street where people were running their businesses," another witness, Ahmed Yusuf, told the AFP news agency.
'Air attacks to intensify'
Maj Chirchir said that the administrator's family was likely to have been residing in the camp with the fighters, "who were dug in trenches".
"We call on peace loving Somalis not to interact Al Shabaab as KDF [Kenya Defence Force] intensifies air attacks in South-Central Somalia," the major tweeted.
On Monday, a Kenyan policeman died when a suspected roadside bomb detonated near Dadaab, the world's largest refugee camp which houses about 450,000 people who have fled famine and conflict in Somalia.
Earlier this month, another policeman was killed and another three wounded in a similar blast around Dadaab.
Two Spanish women working for the medical charity Medecins Sans Frontieres (MSF) in Dadaab were kidnapped in October.
Other abductions include a Kenyan driver also seized from Dadaab, a British woman taken from a coastal resort and a French woman who suffered from cancer.
French authorities say she has since died in Somalia.
Somalia has not had a functioning central government for more than 20 years, with various militias battling for control.
The UN says it is the world's worst humanitarian situation, with famine conditions in three southern areas.
UN-sponsored talks about the future of Somalia and the transitional government are taking place in the semi-autonomous region of Puntland.
The government, which only controls the capital, Mogadishu, thanks to the 10,000-strong African Union force, had its term extended earlier this year until August 2012.
Correspondents say the administration is dogged by infighting and must try and pass a constitution and organise inclusive elections before then.