South Africa's Julius Malema elected to ANC post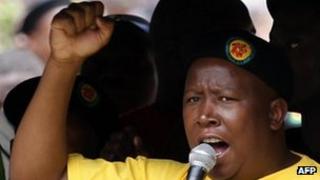 The suspended youth leader of South Africa's governing ANC, Julius Malema, has been elected to a leadership position in the party.
ANC delegates voted Mr Malema onto the party's executive committee in his home province of Limpopo.
Analysts say his election gives him a new platform to fight his suspension.
Last month, the ANC suspended Mr Malema, a staunch critic of President Jacob Zuma, for bringing the party into disrepute.
Mr Malema attended the ANC's Limpopo conference at the weekend, singing songs that ridiculed Mr Zuma as the "shower man".
This was a reference to evidence Mr Zuma gave during his 2006 rape trial, when he said he took a shower after sex with an HIV-positive woman to reduce his chances of contracting the virus.
Mr Zuma was acquitted of rape.
Mr Malema secured 592 votes in elections for the ANC Limpopo executive committee - the third least votes of the 20 people elected, South Africa's public broadcaster, the SABC, reports.
His election sparked outrage among some delegates, who said it was against the party's constitution, the South African Press Association (Sapa) news agency reports.
But ANC provincial secretary Soviet Lekganyane argued that Mr Malema's suspension could only come into effect after his appeal is heard.
"For now he is a member of the ANC with full rights and duties protected by the ANC constitution," he said.
Last month, the ANC's disciplinary committee found Mr Malema found guilty of three of the four charges brought against him, which included disrupting a national ANC meeting, and of bringing the party into disrepute by calling for regime change in democratic Botswana - a position which contravenes party and government policy.
He was also found guilty of provoking serious divisions within the party by praising Thabo Mbeki, who was sacked as party leader and then ousted as South Africa's president by the ANC three years ago.
Analysts say Mr Malema's election to the executive committee shows that he is determined to fighting his suspension.
But he obtained few votes, suggesting that his support is crumbling - even in his home province.
Mr Malema is lobbying for Mr Zuma to be replaced as ANC leader by his deputy, Kgalema Motlanthe, at the party's national conference next year.
No date has been set or his appeal hearing.