Kenyan policeman killed in Dadaab blast near Somalia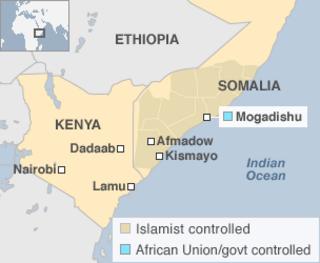 An explosion near the world's largest refugee camp in Kenya has killed at least one policeman, police say.
Two other officers were wounded when a suspected roadside bomb detonated near the Dadaab camp, Reuters news agency reports.
The camp houses about 450,000 people who have fled famine and conflict in Somalia.
A Kenyan official has told the BBC that he suspects Somali militants of carrying out the explosion.
Kenya has sent troops to Somalia to pursue the al Shabab Islamist group it blames for a recent wave of abductions.
Al-Shabab said the Kenyan incursion was an act of war and it would take revenge.
Al-Shabab blamed
"We heard an explosion and on our arrival saw the vehicle ripped in two. The front part of the wreckage was lying on top of the mutilated body of the driver," a private security officer told Reuters.
"Two other badly wounded policemen were pulled out of the wreckage," he said.
Acting Dadaab District Commissioner Bernard Ole Kipury told the BBC's Focus on Africa that he suspects al-Shabab was behind the blast.
"It's a way for al-Shabab to get back at the Kenyan government for sending troops to Somalia," he said, accusing the militants of disguising themselves as refugees to enter the camp.
He added that the authorities have intensified patrols in the camp and would soon be conducting operations to flush out the militants.
The BBC's Bashkas Jugsodaay in the capital, Nairobi, says Dadaab residents told him there is a heavy security force presence at the camp, and police have even sealed off the hospital.
UN Secretary-General Ban Ki-moon visited Dadaab earlier this month, but did not enter the refugee camp because of security concerns.
The blast was the latest in a series of explosions targeting policemen, near the Kenya-Somalia border.
Earlier this month, a policeman was killed another three wounded in a similar blast around Dadaab.
Two Spanish women working for the medical charity Medecins Sans Frontieres (MSF) in Dadaab were kidnapped in October.
Other abductions include a Kenyan driver also seized from Dadaab, a British woman taken from a coastal resort and a French woman who suffered from cancer.
French authorities say she has since died in Somalia.
Al-Shabab denies involvement in the abductions.
Somalia has not had a functioning central government for more than 20 years and has been badly affected by fighting between various militias.
The UN says it is the world's worst humanitarian situation, with famine conditions in three southern areas.