Kenya's military threatens air raids deep into Somalia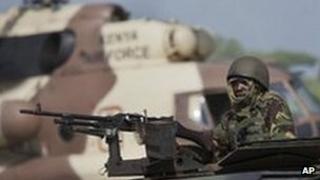 Kenya's army has vowed to pursue Islamist al-Shabab insurgents deep inside southern Somalia with air raids.
Kenya sent troops into Somalia in October, accusing the al-Qaeda-linked group of abducting foreigners from its soil - charges denied by the militants.
Kenyan forces are in three locations in southern Somalia and have made few territorial advances since deploying.
But military spokesman Col Cyrus Oguna said their attacks would "never relent" until "Kenya feels safe".
Some analysts have suggested the Kenyan government wants to establish a buffer zone along its border with Somalia.
Al-Shabab, which controls large parts of central and southern Somalia, has said it views the presence of Kenyan troops in southern Somalia as an act of war.
The Islamist militants have been battling the forces of the UN-backed government, which controls the capital, Mogadishu, thanks to the 9-700-strong African Union force in the city.
Last week, Kenya agreed that its forces in Somalia would join the AU operation.
When Kenya entered Somalia, the military said it intended to capture 10 towns under al-Shabab's control - including the port city of Kismayo.
'Pacification'
Since launching its offensive against the insurgents, Kenyan warplanes have struck several rebel bases.
Targets for future air raids will include Afgoye, a town near Mogadishu, as well as ports along the coast, Col Oguna said.
He warned that the air attacks would continue until al-Shabab was completely destroyed.
"We are developing targets in areas of Afgoye, Merka, Barawe and we want to hit deep down into their own areas."
He called on local people to avoid areas in which the militants operated.
"We want to send a message to those living in areas that are close to al-Shabab infrastructure to try and stay away from those infrastructures because we are developing them as legitimate objectives."
Correspondents say heavy rains have hampered Kenya's mission so far.
Col Oguna said in the areas that Kenyan had occupied pursuing a policy of "pacification", which included the provision of humanitarian assistance.
"Pacification here is tedious, it's painstaking and it's actually time-consuming. But once we are certain that we have pacified the areas sufficiently enough, we'll move forward," the military spokesman said.
Somalia has been convulsed by war for two decades and has not had a functioning national government since 1991.
Al-Shabab announced a "tactical withdrawal" from Mogadishu in August after fierce fighting with AU forces, but has since staged several attacks on the city.