Nigeria attack on Kano air force school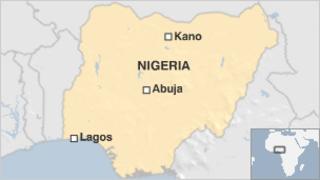 Gunmen have attacked a military-run secondary school near Kano in northern Nigeria, killing four people, hospital sources say.
They said the dead were air force personnel, with two more injured.
Air Commodore Sani Ahmed said three officers had been shot dead and a fourth wounded. A local farmer said the shooting lasted about 30 minutes.
Northern Nigeria has been suffering violence from Islamist militants, but Kano has not been targeted recently.
Air Cmdr Ahmed blamed the attack on armed robbers, saying that some items had been stolen, reports the AP news agency.
Although no group has said it carried out the raid, some residents blame it on Boko Haram, which has carried out a wave of bombings and killings in Nigeria in recent years.
A doctor at the local hospital said that six air force personnel arrived on Thursday night with gunshot wounds following the incident at the school. Three were dead on admission and another died later, he said.
Residents in other areas of Kano told the AFP news agency that they had heard gunfire.
Boko Haram, whose name means Western education is forbidden, often targets the security forces and state institutions, especially in the north.
In August it claimed responsibility for a bomb at the UN headquarters in Nigeria's capital, Abuja, which killed at least 23 people.