Alassane Ouattara's RDR wins most Ivory Coast seats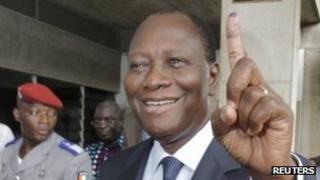 The party of President Alassane Ouattara has won most seats in Ivory Coast's parliamentary elections - the first poll since ex-leader Laurent Gbagbo was arrested, officials say.
Mr Ouattara's RDR gained just under half the 255 seats, while the allied PDCI won 77 to ensure a large majority.
Mr Gbagbo's party boycotted the poll in protest after he was sent to The Hague.
He refused to accept defeat in last year's presidential election, sparking five months of violence.
Some 3,000 people were killed before Mr Gbagbo was detained by pro-Ouattara forces, backed by the UN and France, in April.
Turnout was 37% - higher than in the previous National Assembly elections in 2000 but far lower than the 80% who cast their ballots in November 2010.
The BBC's John James in the main city, Abidjan, says that most international observers have praised the election, which was generally peaceful.
Our correspondent says that the turnout figure will be seen as good by Mr Ouattara's camp, while Mr Gbagbo's FPI party notes it is less than half of registered voters.
"This election confirms the illegitimacy of his regime. Without the use of force, he could not have taken power," FPI spokesman Laurent Akoun told the AFP news agency.
On Thursday, Mr Ouattara's Prime Minister, Guillaume Soro, said he was ready to face justice at the International Criminal Court (ICC), if required.
Forces loyal to Mr Soro have also been accused of committing atrocities as they swept down from their northern strongholds to oust Mr Gbagbo.
When asked whether he was ready to hand himself in, he replied: "If that is your wish, there is no problem", according to the AFP news agency.
"Any person charged, no matter what side - we have made the engagement to carry out their transfer," he said after meeting ICC chief prosecutor Luis Moreno-Ocampo.
Mr Gbagbo's supporters have said it is unfair that he is the only one to have been transferred to The Hague.
The former president is awaiting trial on charges of crimes against humanity at the ICC, where he was transferred last month.
He is accused of being an "indirect co-perpetrator" of murder, rape, persecution and other inhuman acts.
Mr Gbagbo is the first former head of state to face trial at the ICC.