Nelson Mandela 'spy' cameras confiscated by police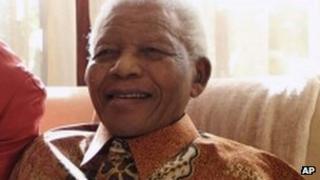 South African police have confiscated cameras they say were illegally filming Nelson Mandela's house in his home village of Qunu in the Eastern Cape.
Police spokesman Vishnu Naidoo told the BBC that two media groups were being investigated.
The cameras were found in a neighbour's house and had been constantly filming the ex-president's residence, he said.
The anti-apartheid icon, who is 93, has appeared increasingly frail since he retired from public life in 2004.
Col Naidoo said under South African law, it was illegal to film or photograph the houses of presidents and former presidents as they were considered "national key points".
Police were informed about the cameras approximately a week ago, he said.
"When our police got there they discovered that the cameras were indeed there and the house was being constantly filmed," Col Naidoo said.
'Not spying'
A neighbour who lives directly opposite Mr Mandela, Nokwanele Balizulu, said she had allowed two international media groups to install the cameras on her property, South Africa's Times Live news site reports.
"I agreed to having those cameras there, but I'm not going to say anything else," she is quoted as saying.
Once investigations were completed, the police would approach the public prosecutor "to determine a way forward", Col Naidoo said.
He declined to reveal the name of the media groups suspected of placing the cameras in Qunu, where Mr Mandela grew up.
But the US-based AP news agency confirmed that it was one of the groups.
"The AP video camera - one camera - was positioned some time ago, with the knowledge of authorities. The camera has now been removed," AP Director of Media Relations Paul Colford said in a statement.
"It was not turned on - not spying on Mr Mandela's home, as some have characterised it. It was part of the customary preparedness that AP and other large news organisations make in the event of a major news story involving a world leader."
Reuters has also said it had set up a camera but that it had since been removed.
Mr Mandela stood down as South Africa's president in 1999 after serving one term, handing over to Thabo Mbeki.
After leaving prison in 1990 following more than 27 years in jail, he led the African National Congress party to a landslide victory in 1994 - the first time South Africa's black majority was allowed to vote.