DR Congo election: US says poll was 'seriously flawed'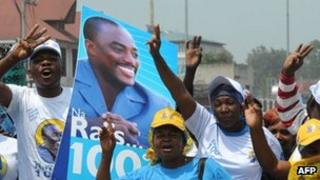 The recent elections in the Democratic Republic of Congo were "seriously flawed", the US has warned as it called for a review of the process.
Official results gave President Joseph Kabila 49% of the vote against 32% for opposition leader Etienne Tshisekedi.
The results' credibility has been criticised by the EU and the Carter Center but the AU said the polls were a success.
The US said there had been several "irregularities".
"The United States believes that the management and technical execution of these elections were seriously flawed," the US ambassador to DR Congo, James Entwistle, said.
"[They] lacked transparency and did not measure up to the positive democratic gains we have seen in recent African elections," he said.
Mr Entwistle said that the US and other Western donors were offering technical assistance to the Congolese to review irregularities identified by observer missions, an offer which has already been welcomed by the country's prime minister, he said.
The country's Supreme Court must decide by 17 December whether or not to validate provisional results.
Mr Tshisekedi rejected the result and has declared himself president.
President Kabila has rejected claims that he won elections through widespread rigging but admitted that "mistakes" had been made.
The African Union (AU) and several regional bodies - including the Southern African Development Community - said the polls had been "successful" and disputes should be resolved through legal means.
In a statement earlier this week, the Carter Center, which had 26 teams of observers monitoring the elections, pointed to differences in the vote count between areas where Mr Kabila had strong support and areas that favoured Mr Tshisekedi.
Some constituencies in Katanga province "reported impossibly high rates of 99 to 100% voter turnout with all, or nearly all, votes going to incumbent President Joseph Kabila", the Center said.
Meanwhile in Kinshasa, where Mr Tshisekedi has strong support, results from nearly 2,000 polling station stations were lost - roughly a fifth of the city's total.
The elections are the first Congolese-organised polls since the end of a devastating war in 2003 which left millions dead.
An earlier poll in 2006 was organised under the auspices of the United Nations.
Mr Kabila has been president since 2001 following the assassination of his father, Laurent and he is due to be sworn in on 20 December for his second term if his victory is confirmed by the Supreme Court.
Inside DR Congo
The Democratic Republic of Congo covers 2,344,858 square km of land in the centre of Africa, making it the 12th largest country in the world.
Eastern DR Congo is awash with a variety of different rebel groups – some have come from neighbouring countries, while others have formed as self-defence groups. Many are taking advantage of the lack of a strong state to seize control of the area's mineral riches.
DR Congo has abundant mineral wealth. It has more than 70% of the world's coltan, used to make vital components of mobile phones, 30% of the planet's diamond reserves and vast deposits of cobalt, copper and bauxite. This wealth however has attracted looters and fuelled the country's civil war.
Despite the country's size, transport infrastructure is very poor. Of 153,497km of roads, only 2,794km are paved. There are around 4,000 km of railways but much is narrow-gauge track and in poor condition. Waterways are vital to transport goods but journeys can take months to complete. Overcrowded boats frequently capsize, while DR Congo has more plane crashes than any other country.
With an estimated population of 71 million, DR Congo is the fourth most populous country in Africa. Some 35% of the population live in cities and the capital Kinshasa is by far the largest, with more than 8 million inhabitants. DR Congo has around 200 ethnic identities with the majority of people belonging to the Kongo, Luba and Mongo groups.
Given its size and resources DR Congo should be a prosperous country, but years of war, corruption and economic mismanagement have left it desperately poor. In 2011 it lags far behind in many key development indicators, with average life expectancy increasing by only 2 years since 1980, after a period when it actually fell during the mid 1990s.