Nigeria's Niger Delta: drownings in boat accident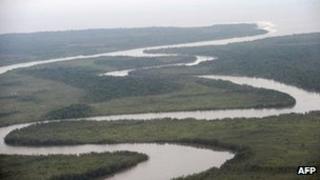 At least 20 people have drowned after an overloaded boat capsized in Nigeria's oil-rich Niger Delta region, officials say.
They said at least three people, including a pregnant woman and child, survived the accident.
The wooden boat was travelling between Eagle Island and Mgbuodohia in Rivers State when it capsized on Tuesday.
Despite the region's oil wealth, most people there are poor and complain of bad transport networks.
A spokesman for the National Emergency Management Agency (Nema), Yushau Shuaib, said rescue workers had so far recovered 20 bodies.
"The boat was overloaded with passengers, some standing," he said.
'Emotional relatives'
Divers are taking part in rescue operations, reports the BBC's Fidelis Mbah from the capital of Rivers State, Port Harcourt.
There were also goats on the boat, he says.
A rescue official in the area, Umesi Emenike, said the survivors included a child and a pregnant woman who gave birth hours after being rescued, AFP news agency reports.
"There are lots of onlookers, curious onlookers, and some very emotional relatives," he is quoted as saying.
Roads are bad or non-existent in many parts of the Niger Delta, forcing people to travel by boat through the region's creeks and rivers.
Nigeria is a leading oil producer, but many of its citizens live in poverty.
The Niger Delta has been unstable for years since militant groups launched a rebellion to demand that the government spend more of its oil revenue to develop the region.