DR Congo election: Deaf anger at ban on texting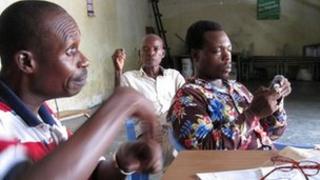 Deaf people in the Democratic Republic of Congo say a ban on texting threatens their lives because they no longer receive warnings of violence.
The government banned SMS messages more than a week ago to preserve "public order" following disputed elections.
President Joseph Kabila was declared the winner, but his main rival, Etienne Tshisekedi, rejected the result.
There are an estimated 1.4 million deaf people in DR Congo, which is recovering from years of conflict.
Last month's elections were the second since the 1998-2003 war which claimed about four million lives.
Four people were killed in the capital, Kinshasa, after Mr Kabila's victory was announced. He is due to be inaugurated for a second term next week.
The official results gave him 49% of the vote against 32% for Mr Tshisekedi.
The opposition says they plan to organise mass protests, alleging the polls had been rigged.
'Disturbing'
"Since 3 December, we've been unhappy," said Pastor Kisangala, the deaf community's religious minister in the capital, Kinshasa.
"We're finding it very hard to communicate. All our communications used to go through SMS messages," he says.
I met him as a centre for deaf and mute people in Kinshasa that I had visited to guage reactions to the election.
A group of friends at the centre kept giving their SMS service another try, switching on their mobile phones, typing a message, hitting send... but transmission still failed.
Interior Minister Adolphe Lumanu said he had been "forced to suspend all cellular [mobile phone] text messaging services to preserve public order" because they had been used to "incite ethnic hatred, insurrection and xenophobia" around the 28 November presidential and parliamentary elections.
The measure means deaf Congolese people have been condemned to indefinite isolation.
"Our members are scattered across the city, some are ill in hospital, others are dying. Without communication we don't even know about it," Mr Kisangala said.
"Few of them have been coming here, whereas with text messages, many used to come to church here on a Sunday."
As electoral violence spread across Kinshasa in the days following the election, deaf people could not hear gunfire and were dependent on family and friends to tell them when it was safe to go out.
"When shooting started in the city I wanted to contact those who were sleeping here and tell them not to go out," said Freddy Mata, the co-ordinator of a cultural centre for deaf people.
"I tried to contact them but messages didn't go through. Then I remembered text messaging had been suspended. It was very disturbing."
Essential tool
The community groups who support deaf people have been losing touch with each other.
The president of the Deaf People's Association in Kinshasa, Ngoy Mwanza, said he only heard about a deaf person being beaten up during electoral turmoil several days after the incident.
Mananga Biala, the head of Kinshasa's main educational centre for deaf people, said as only a few people had access to email, the deaf community currently had no alternative means of staying in touch.
According to the Kinshasa-based African Association for the Defence Human Rights (Asadho), the texting ban has affected all Congolese people.
It said text messages were an essential tool for communities to maintain security, as they could spread alerts cheaply, quickly and discreetly to a large number of people who may be in danger.
Other human rights groups have warned that the ban could cost human lives in isolated regions with poor mobile phone reception, as emergency services could only be alerted to rebel attacks via text message.
Mr Mwanza says deaf people are considering what they should do to get the ban lifted.
"Let's enforce democracy and free up SMS messaging," he said. "If it continues, we may stage a protest march."
Inside DR Congo
The Democratic Republic of Congo covers 2,344,858 square km of land in the centre of Africa, making it the 12th largest country in the world.
Eastern DR Congo is awash with a variety of different rebel groups – some have come from neighbouring countries, while others have formed as self-defence groups. Many are taking advantage of the lack of a strong state to seize control of the area's mineral riches.
DR Congo has abundant mineral wealth. It has more than 70% of the world's coltan, used to make vital components of mobile phones, 30% of the planet's diamond reserves and vast deposits of cobalt, copper and bauxite. This wealth however has attracted looters and fuelled the country's civil war.
Despite the country's size, transport infrastructure is very poor. Of 153,497km of roads, only 2,794km are paved. There are around 4,000 km of railways but much is narrow-gauge track and in poor condition. Waterways are vital to transport goods but journeys can take months to complete. Overcrowded boats frequently capsize, while DR Congo has more plane crashes than any other country.
With an estimated population of 71 million, DR Congo is the fourth most populous country in Africa. Some 35% of the population live in cities and the capital Kinshasa is by far the largest, with more than 8 million inhabitants. DR Congo has around 200 ethnic identities with the majority of people belonging to the Kongo, Luba and Mongo groups.
Given its size and resources DR Congo should be a prosperous country, but years of war, corruption and economic mismanagement have left it desperately poor. In 2011 it lags far behind in many key development indicators, with average life expectancy increasing by only 2 years since 1980, after a period when it actually fell during the mid 1990s.