Uganda minister Masiko resigns after radio theft claim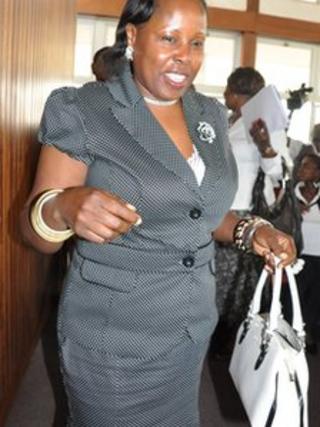 A top Ugandan government minister has resigned after her radio station was accused of stealing equipment from the state-owned broadcaster.
Kabakumba Masiko said to "err is human", but denied that a radio transmitter and mast were stolen.
Earlier this month, police reportedly seized the equipment, which Ms Masiko said had been borrowed temporarily.
President Yoweri Museveni's government has been hit by a series of allegations of corruption and abuse of power.
In October, Foreign Affairs Minister Sam Kutesa and two other officials resigned after being charged with abuse of office and financial loss over the 2007 Commonwealth summit in Uganda, in which scams allegedly cost the government some $150m (£95m).
Mr Kutesa has pleaded not guilty to the charges.
'Not a thief'
Ms Masiko, the minister of presidency, resigned after coming under intense pressure at a meeting of the cabinet and members of the ruling National Resistance Movement (NRM) party, Uganda's state-run New Vision newspaper reports.
In her resignation letter, Ms Masiko, who served as information minister until May, said she was always "mindful that she should not let down the trust" of the president.
However, to "err is human" and she had decided to step down "to allow smooth and unfettered consideration of the controversy I find myself in".
She denied that while she was at the information ministry, her private radio station, Kings Broadcasting Services (KBS), stole equipment from the Ugandan Broadcasting Corporation (UBC) three years ago.
Instead, KBS, after running into "technical problems", reached an understanding with UBC to "temporarily use" its transmitter and mast, Ms Masiko said.
The former minister, who has a 75% stake in the station which broadcasts in Masindi district north of the capital, Kampala, said this was done without her knowledge or consent.
"My conscience is clear that I had no personal involvement in any of the commissions and omissions by the management of KBS," said Ms Masiko.
"Nonetheless, ethically, I wish to take political responsibility."
The BBC's Joshua Mmali in Kampala says Ms Masiko has put up a spirited fight to save her political career since the scandal broke.
New Vision reports that Ms Masiko was ridiculed in parliament last week following reports that police recovered the allegedly stolen equipment from KBS's premises.
"When I sit near Kabakumba now, I am even afraid that she will steal my phone. I have to hide it away," one MP, Muhamed Nsereko, said.
She denied the equipment had been seized and told MPs: "I am not a thief", the paper reports.