Robert Mugabe insists on re-election bid in Zimbabwe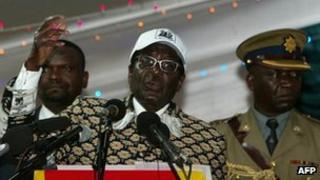 Zimbabwean President Robert Mugabe has said it would be an act of cowardice for him to retire ahead of elections expected to be held next year.
Closing his party's annual conference, Mr Mugabe, 87, condemned the current power-sharing government as a "monster" which should be buried.
Resolutions were passed endorsing Mr Mugabe as candidate, in spite of reports he is suffering ill-health.
Correspondents say despite party divisions, public dissent is rare.
President Mugabe's Zanu-PF party formed a coalition in 2009 with the MDC party of Morgan Tsvangirai, now prime minister, following disputed elections.
The agreement has brought greater stability to Zimbabwe but correspondents say many people believe elections could bring further turmoil.
Elections do not have to happen until 2013, but analysts say Mr Mugabe's supporters want them earlier for fear that the elderly president may not cope with the pressure of campaigning.
'Such a mess'
"Luckily, God has given me this longer life than others to be with you and I will not let you down," Mr Mugabe told thousands of delegates in Bulawayo, the country's second city.
"I can't leave you in such a mess. It would be completely wrong and a loss of confidence in myself. When the party is moving ahead, then I'll say it is in your own hands."
Mr Mugabe has governed Zimbabwe since independence from Britain in 1980 and has at times resorted to ruthless measures to stay in power.
He suffered his first electoral defeat in a 2000 referendum and his supporters immediately unleashed a campaign of violence against the MDC.
Mr Mugabe's critics say a combination of violence and fraud secured subsequent election victories.
He says Western countries, led by the UK, are trying to oust him because of his policy of seizing white-owned land.