Kenyan hopes to open up banking to the poor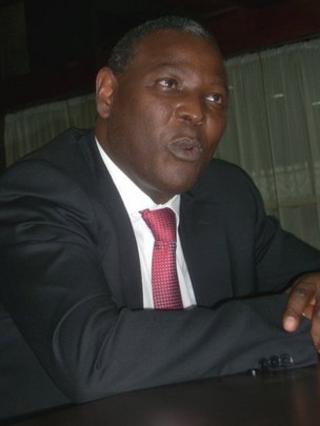 Bankers are often seen as only serving the interests of the rich, especially in the wake of the financial crisis, but Kenya's James Mwangi has managed to transform his company's fortunes while still offering services to the country's large poor population.
Kenya's Equity Building Society was founded in 1984 with the goal of providing mortgage financing to low-income Kenyans.
But poor management and insufficient board supervision, among other factors, contributed to its deterioration and a decade on, the Central Bank of Kenya warned that Equity was on the verge of insolvency.
With the sword of bankruptcy hanging over their heads, in 1994 the building society's board of directors decided it was about time to include independent members in their rank and to recruit externally for managers.
That was when James Mwangi - who had worked with Ernst & Young and Trade Bank, and had been banking with the society for a couple of years - came on board as its finance director.
"I jumped into the sinking boat so there were no two choices. There was only one way out: salvage, salvage, salvage," he told the BBC's series African Dream.
He said that, to his surprise, they managed to rescue the bank without having to recur to a reinvigorating injection of external capital.
"We used customer experience. I just trained the staff to give customers an experience they had never received before and what attracted customers was initially that customer service," he explained.
"And consequently we used customers' deposits to leverage. For three consecutive years, we had negative capital. We were leveraging on customers' deposits."
Microfinance
In the following years, Equity went from success to success and by 2000 its pre-tax profit was growing by nearly 80% a year.
Mr Mwangi became the company's CEO in 2004 and two years later Equity - which had already been moving under his guidance from mortgages to savings and loans - was listed as a commercial bank on the Nairobi Stock Exchange.
Despite the changes of fortunes resulting from its new business strategy, Equity maintained the empowerment of Kenya's poor as a core value through its microfinance scheme.
"I think that what kept me going was that I was pursuing an idea. It was not an interest. It was that, in the fullness of time, we would make financial services accessible to the majority of Kenyans," Mr Mwangi told the BBC's Kevin Mwachiro.
"Every moment we looked there were signs that we were making progress. That constant progress is what gave us the strength to move on."
Over the years, Equity Bank has spread it wings across the region. It now has more than 7.5 million customers and has become one of the biggest financial companies in Kenya and East Africa.
Mr Mwangi considers that the bank's success has to a great extent been fuelled by passion and enthusiasm.
"If you look at Equity, it's an emotional business. People are driven by emotions and it's all about the enthusiasm of liberating our people, empowering our people to transform their lives and livelihoods," he said.
'Symbiotic relationship'
In 2010 Mr Mwangi was named by the Financial Times as one of the 50 emerging market business leaders that have shaped the economic performance of their regions.
In September 2011 the Africa Investor magazine chose him as the African Banker of the Year for the second year in a row.
He says that his motivation throughout has been to make a personal contribution to reducing poverty in Africa.
"You do good to society, they support the business, so it's a symbiotic relationship that seems to grow simultaneously," he said.
And what advice would he offer to people would are looking for capital from institutions like the one he directs?
"Prepare, prepare, prepare because you're competing for capital and capital is looking for prepared entrepreneurs," he said.
However, in his opinion, aspiring business people should also look beyond banks, at other factors of production.
He also thinks that they should try to get coaching and mentoring from those who have been successful.
"They have overcome all the odds, they borrowed from the banks so they have the know-how, and one need not reinvent the wheel if it has already been invented."
African Dream is broadcast on the BBC Network Africa programme every Monday morning.
Every week, one successful business man or woman will explain how they started off and what others could learn from them.