DR Congo election: Mediation effort to avert violence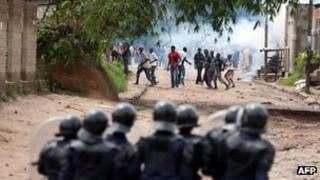 Mediators have intervened to avert violence in the Democratic Republic of Congo ahead of the release of complete election results at 1900GMT.
Opposition supporters have warned they will reject President Joseph Kabila's victory, alleging widespread rigging.
With about 90% of votes counted from last Monday's polls, Mr Kabila has 49%, against 33% for his main rival, Etienne Tshisekedi, official results show.
Riot police have again clashed with opposition supporters in Kinshasa.
Tear gas has been used to disperse Mr Tshisekedi's supporters on several occasions this week in the capital, which is seen as an opposition stronghold.
The BBC's Thomas Hubert in the city says many shops and stalls in Kinshasa's central market remain closed amid fears of violence.
The electoral commission, as well as several provincial governors, have called for people to remain calm, but our correspondent says doubts remain about the credibility of the final tally.
A counting centre was attacked in the eastern Fizi district early on Thursday morning, and the UN-backed Radio Okapi has reported that results from one in 30 polling stations in the second city Lubumbashi were lost, mostly as a consequence of electoral violence.
The last election, in 2006, was marred by weeks of street battles led by supporters of the losing candidate, Jean-Pierre Bemba.
He is now on trial at the International Criminal Court for alleged war crimes in neighbouring Central African Republic.
'Respect outcome'
DR Congo, a country two-thirds the size of western Europe but with hardly any tarred roads or other basic infrastructure, is trying to recover from the 1998-2003 war which claimed an estimated four million lives.
A mediation team - formed with the backing of the election commission and the United Nations mission in DR Congo - has held talks with Mr Kabila and Mr Tshisekedi in a bid to defuse tensions, its chairman, Cheikh Abdallah Mangala, a Muslim cleric, told the BBC.
"Each of them will accept what comes out of the ballot box, as we have asked them," he said.
However, Mr Tshisekedi had set the condition that the election commission should publish full details from each polling station, including the number of votes obtained by the candidates and the number of ballots cast, Mr Mangala said, adding that the commission had agreed to this.
The commission says it will publish full provisional results on Thursday, after a 48-hour delay because of logistical problems.
According to Human Rights Watch, election violence has already left at least 18 dead and more than 100 wounded. It blamed most of the deaths on the presidential guards, accusing them of shooting at opposition protesters - charges denied by the government.
As well as the presidential race, more than 18,000 candidates contested 500 parliamentary seats.
Mr Kabila, 40, was challenged by Mr Tshisekedi, 78, and nine other candidates.
Four of them - including Vital Kamerhe - said last week that the election should be annulled because of alleged fraud, including pre-marked ballot papers.
But the African Union and four other African observer missions said the polls had been "successful" and urged both sides to show restraint while votes were counted.
The European Union observer mission said its preliminary findings showed that the polls were marred by "numerous irregularities, sometimes serious".
At the weekend, several thousand people fled Kinshasa for neighbouring Congo-Brazzaville as fears grew that violence would escalate once completed results are published.