DR Congo election results delayed by 48 hours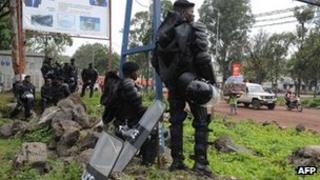 Publication of presidential election results in the DR Congo has been delayed by 48 hours because of technical difficulties, officials say.
The result had been due before the end of President Joseph Kabila's term at 23:00 GMT and the opposition say they will not recognise his authority now.
But a presidential spokeswoman said that a few hours' delay was not a constitutional power vacuum.
Mr Kabila is leading the partial vote count, followed by Etienne Tshisekedi.
He had 46% of the vote, with MrTshisekedi trailing with 36% with two-thirds of the ballots counted.
The opposition has alleged fraud in what are only the second polls since the 1998-2003 war ended in DR Congo.
Fraud allegations
"As we haven't yet been able to receive the tally sheets from all 60,000 polling stations in the country, we decided to push back the publication by 48 hours," said Matthieu Mpita, the spokesman of the National Independent Electoral Commission.
"It was our objective to make the deadline," he said, "but we need all the elements."
Some four million people lost their lives in the conflict and armed groups continue to operate in eastern parts of the vast country, which is two-thirds the size of Western Europe.
The BBC's Thomas Hubert in the Congolese capital, Kinshasa, says Mr Tshisekedi's supporters insist he has won and are unlikely to accept defeat in polls marred by allegations of rigging, including pre-marked ballots.
Our correspondent says that though dozens of helicopters were deployed to collect result sheets from remote polling stations across the country, bags of unprocessed ballot papers and electoral documents were still unprocessed in Kinshasa as the deadline approached.
Riot police have been patrolling the city amid fears that the expected announcement could spark violence, our correspondent says.
Tear gas has already been used to disperse Mr Tshisekedi's supporters. Many shops in the capital remained closed.
Witnesses also reported heavy police and military deployments as well as curfews in several cities across the country.
According to Human Rights Watch, election violence has already left at least 18 dead and more than 100 wounded.
The International Criminal Court's chief prosecutor issued a warning to the country, whose election he said the ICC was watching "very closely".
"I urge leaders, commanders, and politicians on all sides to calm your supporters. Electoral violence is no longer a ticket to power, I assure you. It is a ticket to The Hague," Luis Moreno-Ocampo said, according to the Associated Press news agency.