Mogadishu 'suicide car bomb kills Somali police'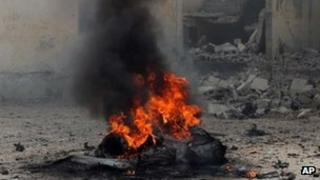 At least five people, including a Somali policeman, have been killed as a car exploded while it was being searched in Mogadishu, sources say.
Police officers stopped the car in the busy K4 junction of the capital.
Police have confirmed the deaths of an officer, a civilian and the driver, who had allegedly set off the explosives.
Al-Qaeda-linked Islamist militant group al-Shabab, which has staged several suicide attacks in the city in the past, said it carried out the attack.
Meanwhile, Kenya says more than 40 al-Shabab fighters and 11 Somali soldiers were killed in a battle in the southern town of Hawo, near Afmadow, at the weekend.
There is no independent confirmation of the Kenyan claims.
Kenya has sent troops into Somalia to tackle al-Shabab, after accusing the militants of a spate of kidnappings - charges it denies.
Following the Mogadishu explosion, medical sources told the BBC's Mohamed Dore in the city that two more civilians had died from their wounds in hospital.
He says the police have blocked all roads in the area.
Smoke was seen rising above the city after the blast, which was reportedly followed by outbreaks of gunfire.
Police sources told our reporter that the car had been stopped and the driver taken to a police station, where he admitted carrying explosives in his vehicle.
He then returned to the car, accompanied by police officers, and managed to detonate the explosives, the sources said.
Al-Shabab controls many southern and central areas of the country.
It announced a "tactical withdrawal" from Mogadishu in August but has since continued to stage attacks in the city.
Some 9,000 African Union soldiers are in Mogadishu to protect the government.
The country has experienced constant warfare for more than two decades and is currently suffering from a famine in some areas after a severe drought.