Nigeria's ex-Boko Haram spokesman Konduga jailed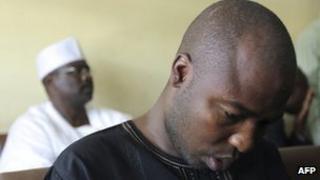 A Nigerian court has sentenced a former spokesman of the militant Islamist sect Boko Haram to three years in prison.
Ali Sanda Umar Konduga was arrested last month with Nigerian senator Ali Ndume, who is accused of backing Boko Haram.
The group has staged several attacks in Nigeria, including on the UN base and police headquarters in Abuja.
Last week, a US Congressional report said Boko Haram was an "emerging threat" to the US and its interests.
Nigeria's security services said Konduga spoke on behalf of Boko Haram, using the name Usman al-Zawahiri.
Konduga said he had not been its spokesman for months as he had been expelled from the group on suspicion of being a government spy.
At the weekend, his father, Sanda Konduga, said his son was mentally ill.
Senator's trial
"Ali Sanda Konduga, since his childhood, has faced mental challenges. It is unfortunate that we now find ourselves in this situation," he said, Nigeria's privately owned The Nation newspaper reports.
He also publicly apologised to Mr Ndume, following claims by the security services that his son had identified him as a sponsor of Boko Haram.
Mr Ndume denies the allegation.
The prosecution has withdrawn charges against Mr Ndume in the magistrates court in Abuja, saying the case would be transferred to the High Court as it was a terrorism trial.
Mr Ndume is a member of a presidential taskforce which explored the possibility of opening talks with the Islamist militants.
He is a senator from Nigeria's ruling People's Democratic Party from Borno state, where Boko Haram first emerged.
Boko Haram means "Western education is forbidden".
Some members of the group say they want Islamic law more widely applied across Nigeria, but correspondents say most factions are focused on local issues.
Boko Haram has carried out many attacks on police and government institutions in Borno state and other parts of Nigeria.
In August, it bombed the UN headquarters in Abuja, killing 24 people.
Last month, it killed more than 100 people in a series of attacks in northern Nigeria.
The US Congressional report, presented at a hearing of the House of Representatives subcommittee on counter-terrorism and intelligence, said in November that Boko Haram had "quickly evolved and poses an emerging threat to US interests and the US homeland".
The report added that Boko Haram "has the intent and may be developing capability to coordinate on a rhetorical and operational level" with al-Qaeda in the Islamic Maghreb (Aqim), which is active in countries such as Algeria, Mali and Niger, and al-Shabab, which is fighting the weak UN-backed government in Somalia.