How wars and poverty have saved DR Congo's forests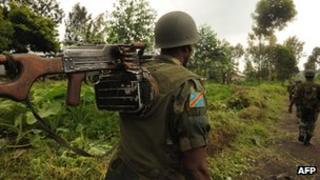 It is an uncomfortable fact that decades of conflict and poverty in the Democratic Republic of Congo have helped to protect the world's second largest rainforest, and by extension to slow the process of global climate change.
"Yes," says Thierry Bodson, who runs the World Wildlife Fund's programmes in the east of the country from the town of Goma. "In some places the presence of rebels has protected some areas. A lack of development has somehow protected the Congo basin."
The vast, and almost pristine forest - which sweeps west from the Rift Valley to the Atlantic coast and covers an area roughly the size of Spain - acts as a huge capture and storage unit for carbon dioxide, one of the main contributors to global warming.
But there is a growing consensus that the Congo basin is now under imminent threat. As the region's conflicts appear to be ebbing, farming, mining and logging intensify, and China and other countries stand poised to build substantial roads through the jungle.
"A lack of roads… protects a major part of this forest so far," says Mr Bodson. "We can't say don't build roads, don't create economic activity. What we can do… is to direct this development in a sustainable manner. Otherwise this very important forest can disappear."
Which is where the current COP 17 climate conference in Durban, South Africa, lunges into the picture.
Among the many schemes fighting for space, attention, and action at the summit is something called REDD+, a giant and complex United Nations-backed programme trying to attach a solid financial value to the carbon stored in large forests. This in turn would lead to a sophisticated carbon "market", and ultimately to billions of dollars in incentives for governments and communities to manage and protect their forests.
"REDD+ is very important for the DRC," says Irene Wabiwa from Greenpeace's office in the capital, Kinshasa.
"It will mean a lot of money. That's why in Durban we hope the parties sign off on an agreement for a legal commitment. If it is a voluntary process it can't work."
Ambitious aims
"We certainly need the money," says Ephraim Balole, who works with Congolese soldiers trying to guard the giant Virunga National Park to the north of Goma.
It is a dangerous business.
The region's long wars are officially over, but local and foreign rebel groups and militias still lurk in the forests, and this year alone 17 government soldiers and park wardens have been killed.
"They're a real danger. But we have no choice - we have to win to rebuild our country… and create sustainable development. We are doing our best but we don't have enough funds from the government for salaries, and we need support from the international community," says Mr Balole.
The insecurity has played a role in keeping developers and farmers out of the region, but the militias themselves have, increasingly, become involved in the lucrative, and largely illegal, local charcoal trade that causes huge damage to the forests.
Climate change glossary
Select a term to learn more:
Adaptation
Action that helps cope with the effects of climate change - for example construction of barriers to protect against rising sea levels, or conversion to crops capable of surviving high temperatures and drought.
In the impoverished outskirts of Goma, a group of women push their fingers through soft clay as they build fuel-efficient stoves to sell for a small profit in the neighbourhood.
The scheme, supported by the WWF, is one tiny example of the sort of work that REDD+ is hoping to encourage on a far larger scale. The $5 (£3) stoves use half as much charcoal as normal ones, and could eventually play an important role in preserving the nearby forests.
There is no doubting the ambition, or the complexity of what REDD+ is hoping to achieve in DR Congo.
But Ms Wabiwa has concerns about the capacity of such a chaotic, impoverished country to manage such a sophisticated scheme.
"The Congolese forest is very important to stop climate change. But there is no transparency, no control - a lack of governance [in DR Congo]. Our hope is that REDD will have high safeguards to secure the money. Otherwise it can be abused, or stolen, or used for another purpose," she says.