DR Congo election: Kabila guards 'shot UDPS supporters'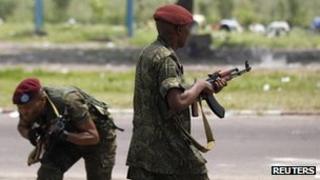 Guards loyal to Democratic Republic of Congo President Joseph Kabila shot opposition protesters, killing 14, ahead of Monday's election, a human rights group says.
Human Rights Watch says at least four more people were killed during the poll - claims dismissed by the government.
It says LRA rebels killed three people in the north-east of this vast country as they went to vote.
The first official results give Mr Kabila a narrow lead.
With 15% of the votes counted, the election commission says Mr Kabila has 940,000 votes against 912,000 for his main rival, Union for Democracy and Social Progress (UDPS) leader Etienne Tshisekedi.
The BBC's Thomas Hubert in the capital, Kinshasa, says these results largely come from areas seen as Kabila strongholds, such as Katanga, while few results have been released from Kasai and Kinshasa, which voted against Mr Kabila in the previous election.
Election officials also said that their website had been hacked into and false results published there.
Our reporter says the first official results have been released earlier than planned because unofficial results have been circulating widely, raising tension.
On Thursday, Mr Tshisekedi said he had won the poll.
Guards 'fired in the air'
The election was marred by widespread logistical problems, as well as the violence, and polling in some areas was extended until Thursday to allow voting material to be delivered.
DR Congo is two-thirds the size of Western Europe but has hardly any road or rail links between its major cities, so the UN peacekeeping mission distributed some election equipment by helicopter.
This is the second election since the 1998-2003 war officially ended, following the loss of some four million lives. Armed groups continue to operate in eastern parts of the country.
On Wednesday, five African observers said the elections had been "successful", despite opposition calls for the polls to be annulled.
HRW called on the Congolese government to rein in the military, accusing President Kabila's guards of firing indiscriminately at UDPS supporters and civilians last Saturday, after Mr Tshisekedi was met by crowds of his supporters when he arrived in Kinshasa's airport.
But Information Minister Lambert Mende said investigations showed that the guards had fired into the air and that three people had been killed during clashes between rival supporters - as previously announced.
HRW researcher Ida Sawyer told the BBC that the number of deaths had been verified and cross-checked by witnesses and relatives of those who had been shot and killed.
HRW also pointed to numerous cases of voter intimidation around the country.
Ms Sawyer accused a local leader in the volatile North Kivu region of impounding election material at his house for several days until local people agreed to vote for Mr Kabila.
She said that the Lord's Resistance Army (LRA) rebels had kidnapped 10 women and boys, as well as killing three men attempting to vote.
One of the women was six months pregnant and was raped before being freed, she said. She lost her baby.