Egypt election officials announce 62% turnout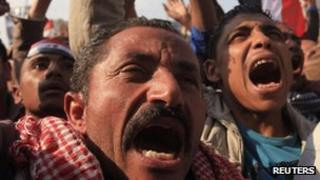 Election officials in Egypt say 62% of eligible voters turned out to vote in the initial stage of the country's elections earlier this week.
They announced the first results of the country's complex parliamentary poll, which takes place in three stages and over three months.
But the overall picture is unclear with most candidates facing a run-off. Only four independents won seats outright.
Islamists are expected to dominate this first democratic poll in 60 years.
The Muslim Brotherhood is expected to lead the field, but a more radical group may also do well.
An official read out results constituency by constituency, but most candidates did not achieve the 50% required to avoid a run-off, which will take place next week.
The turnout figure of 62% is lower than the military leadership's estimate of 70%, but, says the BBC's Jon Leyne, still considered impressive considering the long queues to vote, complicated election process, high rate of illiteracy, and almost no election campaigning at all.
The voting system is highly complex, with two-thirds of the 498 elected seats being decided by proportional representation and the rest by a first-past-the-post system.
Many of the first-past-the-post polls have gone to a second round and the proportional part of the vote will not be announced until later.
But leaks suggest the Muslim Brotherhood is the big winner, with its Freedom and Justice Party (FJP) predicted to take about 30% of the vote.
The FJP is in a coalition with smaller parties, and overall that coalition is expected to receive about 40%.
Another bloc containing the al-Nur party was predicted to take some 20% of the vote.
It follows the conservative Salafi brand of Islam which seeks to bar women and Christians from executive posts and ban alcohol and mixed beach bathing - something which, if implemented, could hit Egypt's crucial tourism industry hard.
But the FJP has repeatedly stressed its commitment to an inclusive democracy, and its charter says it strives for a "non-religious" state.
The liberal multi-party Egyptian Bloc was rivalling al-Nur for second place.
Only a third of constituencies voted on Monday and Tuesday in the poll that will decide the make-up of the lower house of parliament.
'Revolt, revolt'
The next two stages of the poll will go on into January.
As the results loomed, a few thousand Egyptians gathered in Cairo's Tahrir Square to honour the 42 people who died in clashes with police last week, Reuters news agency reported.
Participants said they rejected the rule of both the army and Kamal Ganzouri, the man the ruling military council has nominated as prime minister.
According to Reuters, crowds chanted: "Run us over with your tanks. Oh country, revolt, revolt, we don't want [Field Marshal Mohamad Hussain] Tantawi or Ganzouri."