US Congress warns of Nigeria's Boko Haram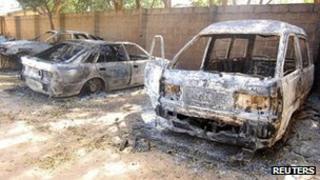 A US Congressional report says Nigeria's militant Islamist group Boko Haram is an "emerging threat" to the US and its interests.
Boko Haram has carried out a spate of bombings, including in the capital, Abuja, as well as in the mainly Muslim north where the group originated.
The report said it may be forging ties with al-Qaeda-linked groups in Africa.
It comes as Nigeria's defence minister said pro-Gaddafi fighters from Libya were smuggling weapons into the north.
The chairman of the US Congressional committee which drew up the report, Patrick Meehan, told the BBC that the US should work to improve its relations with the Nigerian security services.
"We ought to put much more into developing local intelligence and relationships, and more into cooperating with Nigerian authorities to encourage them to help us work together to understand the nature of the threat," he said.
'Lack of evidence'
The report, presented at a hearing of the House of Representatives subcommittee on counter-terrorism and intelligence, said Boko Haram could threaten the US.
"Boko Haram has quickly evolved and poses an emerging threat to US interests and the US homeland," it said.
The report added that Boko Haram "has the intent and may be developing capability to coordinate on a rhetorical and operational level" with al-Qaeda in the Islamic Maghreb (Aqim), which is active in countries such as Algeria, Mali and Niger, and al-Shabab, which is fighting the weak UN-backed government in Somalia.
Mr Meehan said Boko Haram's "fast evolution" was worrying, the AFP news agency reports.
"While I recognize there is little evidence at this moment to suggest Boko Haram is planning attacks against the [US] homeland, lack of evidence does not mean it cannot happen," he is quoted as saying.
Boko Haram, formed in 2002, has carried out multiple gun and bomb attacks in Nigeria since 2009.
In August, it bombed the UN headquarters in the capital, Abuja - its first attack on a high-profile foreign target.
Last month, the US embassy in Nigeria warned US citizens to avoid certain hotels in Abuja because they may be targeted by Boko Haram.
But the group is not known to have carried any attacks on Nigeria's oil industry in the south, although local militants have disrupted production and kidnapped oil workers for ransom.
On Tuesday, Defence Minister Bello Haliru Mohammed said Nigeria was strengthening defence ties with neighbouring Niger to stem the flow of weapons from Libya, Nigeria's privately owned Tribune newspaper reports.
"We are very much aware of the movement of arms and explosives that were stolen from Libya," he is quoted as saying.
Mr Mohammed said the European Union (EU) had also offered to assist.
"They have fears also of disruption in our sub-region, if these weapons are allowed to proliferate without challenge. And Mali, Central African Republic, Mauritania [and] Niger are all coming together to set a joint operation to fight movement of these weapons," he is quoted as saying.