DR Congo election hailed a success by African observers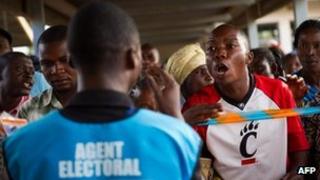 African observers say the Democratic Republic of Congo's elections have been "successful", despite opposition calls for the polls to be annulled.
Five observer groups said that despite logistical problems, the political parties should accept the results.
Earlier, four opposition candidates said Monday's polls should be cancelled because of widespread rigging.
Voting was extended into Wednesday in some areas where people have not been able to vote.
The BBC's Christophe Pons in the capital, Kinshasa, says this includes an opposition stronghold in the city, where ballot papers had not arrived by Tuesday evening.
President Joseph Kabila was challenged by 10 candidates, including former ally Vital Kamerhe, who is among the candidates calling for the results to be annulled.
'Pre-marked ballots'
More than 18,000 candidates contested 500 parliamentary seats.
Votes have been counted in some polling stations, with official results for the presidential poll expected next week and the parliamentary poll in January, our reporter says.
After decades of conflict and mismanagement, DR Congo, a country two-thirds the size of Western Europe, has hardly any functioning transport infrastructure such as roads or railways.
The UN peacekeeping mission in DR Congo has been helping to fly voting material to areas which have not yet voted, Reuters news agency reports.
In a joint statement, observer missions of the African Union, the Southern African Development Community (SADC) and three other groups said they had noted the logistical difficulties but welcomed the "successful holding of the elections".
Voter turnout was high, the observers said, adding that they regretted "isolated" incidents of violence.
Parties should show a "high sense of responsibility by accepting the outcome of the polls" and disputes should be resolved through legal means, they said.
On Tuesday, Mr Kamerhe sent a letter to foreign observers and the election commission, saying rigging had been "deliberately planned" with pre-marked ballot papers.
"There can be no doubt as to the scale of the fraud, deliberately planned by those in power with the connivance of the national election commission," he said.
"Police chased witnesses from polling stations before counting could start."
Mr Kamerhe's aides also accused the UN peacekeeping mission of showing bias towards Mr Kabila.
"These elections must quite simply be annulled," the letter said.
The Open Society Initiative of Southern Africa, a non-governmental organisation which deployed 5,000 observers to polling stations, also expressed concerns about irregularities, AFP news agency reports.
"The irregularities are so widespread it will be difficult for anyone to ignore and say they had no impact on the integrity of the vote," the NGO's country director, Pascal Kambale, is quoted as saying.
He said millions of voters had been turned away from polling stations after being told they were at the wrong stations.
"A more worrying sign of a probable rigging attempt were a number of already-filled-in ballot papers that were discovered by people across the country," he added.
Election commission chief Daniel Ngoy Mulunda said there was no need to cancel the elections.
"There's nothing to make us annul these elections, truly nothing, we aren't even thinking of it," he said.
He said that "99%" of polling centres had opened on voting day, and that only 485 out of more than 60,000 had "had problems".
Three other candidates, including Senate speaker Leon Kengo, have also called for the results to be declared null and void.
In a joint statement, they said they had uncovered "fictitious" polling stations and pre-marked ballot papers.
They said they attached "no credibility" to the vote and "demand the invalidation, pure and simple, of these elections given the breaches and irregularities".
Our reporter says Mr Kamerhe's decision is the most significant as - along with Union for Democracy and Social Progress (UDPS) leader Etienne Tshisekedi - he was seen as one of the main opposition candidates.
The UDPS has made similar accusations but it has not backed the call for the results to be nullified.
It said it was confident that Mr Tshisekedi would win, despite the irregularities.
Our reporter says many people who were unable to cast their ballots are angry.
Some EU election observers were withdrawn from polling stations on Monday for their own security, Reuters reports.
At least four people died after armed men - suspected to belong to a secessionist movement - attacked two polling stations in the southern mining city of Lubumbashi, a stronghold of Mr Kabila.
In the opposition stronghold of West Kasai, 15 polling stations were reportedly set on fire by voters angry at long delays. In the same province, there were unconfirmed reports of ballot boxes being full as polling opened.
Meanwhile, the UN security council has added one of the parliamentary candidates, Ntabo Ntaberi Cheka, to its sanctions list.
Mr Cheka, the head of a militia group, is wanted for allegedly organising mass rapes in eastern DR Congo in 2009.
His group is called the Mai Mai Cheka, and the UN's sanctions committee accuses him of ordering the attacks to punish local people for allegedly collaborating with government forces.
The French, UK and US missions to the UN said Mr Cheka would be subject to a worldwide travel ban and assets freeze.
"Our missions strongly encourage the Congolese government to implement the existing arrest warrant currently outstanding against Cheka," they said in a joint statement.