Big turnout in Egypt post-Mubarak election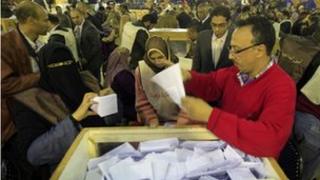 Votes are being counted in Egypt after the second day of voting in the first parliamentary elections since President Hosni Mubarak was overthrown.
There were again long queues outside polling stations in Cairo and other big cities. The vote was largely peaceful.
General Ismail Atman, a member of the ruling council of army generals, said he expected turnout in this first round of voting to exceed 70%.
Preliminary results are expected later on Wednesday.
Another member of the ruling council, Maj Gen Mukhtar al-Mulla, called the turnout "unprecedented in the history of the Arab world's parliamentary life".
The UN Secretary General, Ban Ki-moon, praised "the generally calm and orderly manner in which voting had taken place".
Many protesters occupying Cairo's Tahrir Square boycotted the vote.
Late on Tuesday, some violence occurred at the edge of Tahrir Square near Egypt museum. Passers-by said criminal elements who had been thrown out of square by protesters had come back to cause trouble. The BBC's Jeremy Bowen in Cairo saw young men running around with metal bars and stones in their hands.
Delays
There had been fears the vote might be delayed after last week saw deadly protests against the interim military rulers who replaced Mr Mubarak.
The protesters fear the Supreme Council of the Armed Forces led by Field Marshal Hussein Tantawi, which is overseeing the transition to democracy after decades of authoritarian rule, is trying to retain power.
At least 41 demonstrators were killed and more than 2,000 wounded earlier this month, as tensions flared in the Arab world's most populous state.
The Muslim Brotherhood is expected to do well in the vote.
Monday saw long queues form outside polling stations in Cairo and in places queues were said to have stretched up to 3km (two miles).
Correspondents say a widespread sense of optimism that the complex and drawn-out voting process was off to a good start is reflected in the Egyptian stock market which closed up more than 5% on Tuesday.
One voter, Ahmed Raafat, told the BBC: "After suffering from an inner conflict as to whether to vote or not, I decided to vote today, although I know that the military wants to retain power and parliament will have limited powers."
There had been some delays in opening polling stations on Tuesday, said Abdel Moez Ibrahim, the head of the High Judicial Elections Commission (HJEC).
But Mr Ibrahim stressed that voting would be extended "until the last voter" had cast their vote.
Officials blamed a delay to the voting in some Cairo constituencies on the first day of polling to the late arrival of ballot papers and a shortage of ink and administrative officers. But the second day of voting went more smoothly.
Muslim Brotherhood
State-run TV reported on Monday that 25 people were injured in election-related violence.
Some expressed concern that party activists have not respected the rules on campaigning, and handed out leaflets close to polling stations.
There have also been reports that in Cairo and Port Said, candidates' numbers on voting cards had been changed.
Voters in nine provinces, including Cairo, Port Said, Alexandria and Assiut voted in the first stage of a process extending until March.
Other provinces take their turns through December and early January for elections to the 508-member People's Assembly.
Voting for the upper house, or Shura Assembly, of parliament takes place after that and the presidential election is supposed to be held by mid-2012.
About 50 million people are eligible to vote out of a population in excess of 85 million - with candidates from 50 registered political parties.
The new parliament is expected to have a strong Islamist bloc led by the Muslim Brotherhood, liberal groupings and some reconditioned elements of Hosni Mubarak's old party.
Much remains unclear about how the new parliament will function and whether it will be able to resolve a standoff with the armed forces over how much power they will retain under a new constitution to be written next year.
Preliminary results from the first phase of voting should be announced on Wednesday, but the final make-up of the lower and upper house of parliament will not be clear until March.