DR Congo vote: Bukavu, Kinshasa, Kisangani and Lubumbashi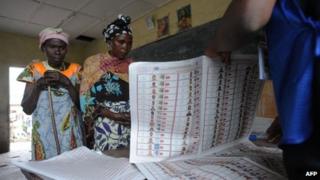 Voters in the Democratic Republic of Congo are choosing their next leaders, after a run-up marred by violence and logistical delays. More than 30 million people have registered to vote. BBC correspondents report from polling stations across the country.
Will Ross, Kinshasa
It was not really a ballot paper - more like a broadsheet newspaper. For the national assembly election in central Kinshasa there were 13 pages packed with candidates' faces.
Fortunately they all had numbers.
But for those who hadn't memorised it, this was a daunting identity parade.
"It was like leafing through a bible," one voter told me after folding the booklet several times to fit inside the ballot box.
"Better than dictatorship under Mobutu - at least we are free to choose," another voter said.
The heavy rain may have slowed down the stream of voters but there is still a palpable desire to make their choices count.
Some stations opened late but the grumbles from voters here were no greater than at other elections I have covered - the big question is how the inaccessible rural areas fared.
With 60,000 polling stations across this vast country there are bound to be some problems - especially when you consider that right up to the last minute, a postponement was on the cards.
But on any given day, if thousands of observers and journalists were sent in to scrutinize, they would find trouble somewhere in DR Congo so we now wait to find out the scale of the problems.
Mamadou Moussa Ba, Lubumbashi
Gunmen have attacked two polling stations in Lubumbashi, the second city, causing several fatalities.
Panic-stricken voters fled, screaming and crying.
They blamed pro-secessionist fighters for the attacks.
Lubumbashi is the main city in the mineral-rich Katanga region which was hit by a secessionist war after independence more than 40 years ago.
Gunmen also ambushed two vehicles carrying voting material near Lubumbashi in an overnight attack, wounding one of the drivers and a security officer, election officials said.
Voting material was also set on fire, the officials said.
Some polling stations have not opened six hours after voting was due to start.
Supporters of opposition candidate Etienne Tshisekedi said the logistical problems were deliberate.
They accused election officials of trying to disenfranchise them but they said they were determined to vote, even if it meant waiting until midnight.
In other areas, voting is proceeding smoothly with the violence and delays not dampening the spirit of voters.
When I visited the Imara polling station in the city this morning, a long queue of people - including women with babies on their backs - was waiting to vote.
Police were at the scene - and they were polite and helpful as they directed people to polling booths.
Some voters complained that their names were not on the voters' roll.
After texting the election commission and receiving a reply, they proceeded to polling stations where their names were supposed to appear.
So, it was an impressive display of how mobile phones are being used to ensure the elections go smoothly.
President Joseph Kabila was born in Katanga and he has strong support here, though the opposition also has a presence.
People are hoping that after this election, their lives will improve with an increase in wages and better infrastructure.
Noel Mwakugu, Kisangani
Voter turnout here is massive, with long queues at polling stations.
The process has been chaotic, with many people turned away because their names were not on the voters' roll.
An election observer said that at one polling station, some 5,000 people had registered but only 20 names were on the roll.
Many people are being redirected to other polling stations where their names are supposed to appear.
This has caused a lot of anxiety, with many voters fearing they will not be able to cast their ballots before polling stations close.
But election officials say the voting time will be extended for people already in queues.
I started my day at the Kabondo commune polling centre, where hundreds of voters were milling around two hours before polls opened. In the darkness, they were all flashing their torches on their voting cards.
I could not see much, but as day broke a clearer picture of Kisangani emerged.
Women had their make-up on and hair well styled and I wondered just how they did it, with Sunday night's unusually long power outage.
Armed with stools or plastic chairs they waited patiently in the long queue that was growing fast.
The men were also smartly dressed, with gold and silver chains hanging around their necks.
They looked more like they were going to a rumba concert than to vote.
As the polling stations opened and the numbers increased, confusion reigned.
Election commission officials had a hard time explaining to impatient voters why their names were not on the voters' roll.
"I was here at 5am and now they are telling me to move to another polling centre about 20km away. Who will pay for my transport?" Jasper Mulungi protested.
At polling centre 22 at Kabondo, some 7,000 voters are expected to cast their vote.
By mid-morning the ballot box for MPs to the National Assembly was almost full and not even half of the voters had cast their votes.
"We are not sure they [election officials] have enough boxes because they will fill up very soon. The ballot paper is so large," Alphonse Bahai said.
About 200 candidates are competing for five parliamentary seats. As a result, the ballot paper is nine pages long.
Laeila Ajovi, Bukavu
From the early hours of the morning, long queues formed in front of the primary school in Nguba, a small neighbourhood of Bukavu, the capital of the eastern province of South Kivu, where rival militias have caused mayhem over the years.
At the school, voting started an hour late because too many party agents had come to monitor the polls.
Some of them had to be cleared from classrooms before voting could start.
The elderly cast their ballots first.
The vote was extended to people who were not on the voters' roll, provided they were in possession of electoral cards. They were registered on a complementary voters' roll.
In the nearby polling station in the college of Alfajiri, the queues were also long, showing the huge turnout for this presidential and legislative elections.
To help illiterate voters, election officials designated neutral people to make sure they voted for their candidates and did not spoil their ballots.
Some voters said they had received text messages urging them "to bring their own pen" because the ones provided by officials had an ink that "disappears after half an hour" - a rumour that shows the mistrust towards electoral agents and the fear of electoral fraud.
One voter, Janvier Marume, was frustrated that he had to wait for seven hours to vote.
"In 2006, it was much better. The police officers who are supposed to regulate the lines don't really do their job," he said.
"If they know someone, they make that person go first. But that is also how it works here in Congo."
Except for the logistical difficulties, there are no problems in Bukavu.
The city is quiet, as though it is a Sunday, with most shops closed and fewer cars on the road.
The vibrant atmosphere generated by the election campaign has been replaced by a calmness only disturbed by the loud noise of lorries carrying policemen and UN peacekeepers watching over the polls.
Inside DR Congo
The Democratic Republic of Congo covers 2,344,858 square km of land in the centre of Africa, making it the 12th largest country in the world.
Eastern DR Congo is awash with a variety of different rebel groups – some have come from neighbouring countries, while others have formed as self-defence groups. Many are taking advantage of the lack of a strong state to seize control of the area's mineral riches.
DR Congo has abundant mineral wealth. It has more than 70% of the world's coltan, used to make vital components of mobile phones, 30% of the planet's diamond reserves and vast deposits of cobalt, copper and bauxite. This wealth however has attracted looters and fuelled the country's civil war.
Despite the country's size, transport infrastructure is very poor. Of 153,497km of roads, only 2,794km are paved. There are around 4,000 km of railways but much is narrow-gauge track and in poor condition. Waterways are vital to transport goods but journeys can take months to complete. Overcrowded boats frequently capsize, while DR Congo has more plane crashes than any other country.
With an estimated population of 71 million, DR Congo is the fourth most populous country in Africa. Some 35% of the population live in cities and the capital Kinshasa is by far the largest, with more than 8 million inhabitants. DR Congo has around 200 ethnic identities with the majority of people belonging to the Kongo, Luba and Mongo groups.
Given its size and resources DR Congo should be a prosperous country, but years of war, corruption and economic mismanagement have left it desperately poor. In 2011 it lags far behind in many key development indicators, with average life expectancy increasing by only 2 years since 1980, after a period when it actually fell during the mid 1990s.