Landmine blast near Somali border kills Kenya soldier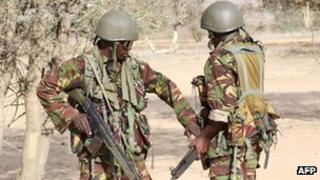 One Kenyan soldier has been killed and at least four others injured after their truck hit a landmine near the Somali border, officials say.
The incident happened in the northern Mandera area.
The explosion is the latest in a series of attacks in the region since Kenya sent troops into Somalia last month.
Kenyan soldiers entered Somalia to pursue the al-Shabab insurgent group after a spate of attacks and kidnappings in northern Kenya.
A military spokesman said the latest incident occurred at 0700 local time (0400 GMT) on Thursday, when a truck carrying 13 soldiers on patrol duties drove over an improvised explosive device in the Mlima Fisi area.
Five seriously injured soldiers were airlifted to Garissa hospital, but one of them died.
One report said the landmine had been planted a short distance from their base.
On Tuesday, two Kenyan police officers were shot and seriously wounded in the border town of Liboi.
Two people were killed in a grenade attack on a church in the eastern town of Garissa earlier in the month.
Some analysts say the Kenyan government wants to establish a buffer zone along its border with Somalia following a string of attacks blamed on the al-Qaeda linked al-Shabab group.
The incidents included the abductions of four foreign women, one of whom subsequently died.
Al-Shabab, which controls much of southern and central Somalia, denies the allegation and says it views the incursion as an act of war and it will take revenge by attacking Kenya.