Trial of Saif al-Islam Gaddafi will test Libya justice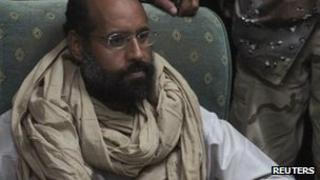 The International Criminal court has accepted that Saif al-Islam Gaddafi will be tried on Libyan soil and not at The Hague.
As it stands, the ICC's involvement in the procedure of Saif al-Islam's trial appears as though it will be minimal, and it will have a consulting role.
The International Criminal Court indicted the fallen Libyan leader's son for alleged war crimes during the uprising in February and the subsequent nine-month conflict. It is now understood all round that whether Saif al-Islam will be tried on Libyan soil or at The Hague tribunal, is no longer in question. He will be tried in Libya - eventually.
During his visit to Tripoli, the chief prosecutor of the ICC, Luis Moreno-Ocampo said, "The standard of the ICC is that it has to be a judicial process that is not organised to shield the suspect… and I respect that it's important for the cases to be tried in Libya… and I am not competing for the case."
Mr Ocampo later added that it was not his role to tell Libyan officials how to hold a fair trial.
"There are so many different traditions, it is difficult to say what is fair," he said.
Countdown to guilty
Many on the ground would argue that is a fair statement. In reality, Libyans generally do not understand why the issue of fairness in Libya's future handling of the case is being raised by human interest groups.
For most here, it is not a question of whether Saif al-Islam is guilty or not, but rather a countdown to when the guilty verdict will be handed down. That already sounds like a miscarriage of justice but for those directly affected by his father's repressive and bloody regime, a guilty verdict is essentially a fait accompli.
In this high profile case however, the bigger question is whether the accusations against Saif al-Islam can be proven in a court of law. That is a matter that can only be considered when the evidence against him is revealed.
Saif al-Islam's rhetoric was certainly hostile during the uprising, but proving that he issued orders to pro-Gaddafi forces during the war, is an entirely different matter.
Key player
Libya's transitional authorities come across as confident that he can be tried in Libya freely and fairly. But for many Libyans, Saif al-Islam's role in suppressing the uprising is without question - most are convinced he was a key player and many feel that anything less than a death sentence will not suffice.
His trial is expected to lay much to rest within a population that is desperately seeking closure on his father's brutal regime.
However, there is more at stake for the interim officials that now rule this country.
It is not just a question of putting the son of the deposed leader on trial, but also thousands of detainees from pro-Gaddafi forces and the suspected foreign mercenaries who fought alongside them.
The Libyan judiciary - when it is up and running again - has thousands of cases to process. How it handles them will be key in setting a new standard in the rule of law, where facts and witnesses - not hearsay - will play a decisive role.
No matter how positive Libya's new Prime Minister Abdurrahim al-Keib sounds when he speaks of his nation's abilities to try Saif al-Islam, the truth of the matter is that it will be the first case of its kind to be prosecuted here. This is unchartered territory for the new authorities and the judicial system.
Long process
There are many unknowns in Libya's transitional period of power after a 42-year dictatorship that was toppled in the bloody conflict.
Although a new cabinet has been formed this week, this latest move was the first step in a long political process. Its chief task is how and when the military can be centralised, following the birth of some powerful brigades and a few unruly militias in the country.
They all fought against a common enemy for months but as the debris of war is cleared, their powers need to be consolidated under a single command - a task that has so far proven difficult for the National Transitional Council to achieve.
Saif al-Islam was captured by members of the Zintan brigade - named after the sleepy mountain town in the west of the country. He is still being held there, under the supervision of a local commander there and it is not clear why. Osama al-Juwali, a local military commander from Zintan, was named as defence minister in the new interim cabinet this week.
Viewed with disdain
Libya's judicial system is not in a shambles, but it is in disarray.
Like all other institutions under Muammar Gaddafi's dictatorship, the courts here simply mirrored the colonel's iron rule. They came to be viewed with disdain by Libyans who were long persecuted by them, with what most believed was flawed or fabricated evidence.
The Libyan judiciary was ultimately a tool of repression and injustice under the Gaddafi regime. Transforming that image, reality and engrained process will not be easy.
Many here often point out that "Libya was a country of laws" when they speak of the monarchy that preceded Muammar Gaddafi's rule. Any semblance of law and respect for its rule disappeared over the decades.
The country has no shortage of lawyers, or judges who understand what the law is; the problem has long been with the interpretation of it. The transitional leaders are pinning their hopes on the revival of Libya's judicial system as a tool of fairness and justice that can be trusted as the shadow of a brutal dictatorship is gradually lifted.