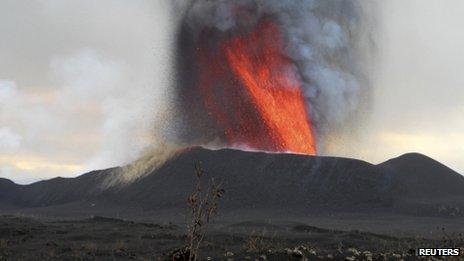 It started as a distant roar somewhere in the Congolese jungle ahead of us.
We set off, in single file, along a narrow path, which grew more treacherous during the course of a furious afternoon rainstorm.
After two hours, the roar began to sound like waves crashing on a shingle beach.
"Please don't talk loudly when we're walking," said one of the armed guards. "This is for your safety."
We were in Virunga National Park in the eastern Democratic Republic of Congo - home to a spectacular collection of volcanoes and mountain gorillas, and in recent years to an alarming assortment of militias, foreign rebel groups, army factions and marauding gangs - the bitter-ender remnants of DR Congo's long wars.
Hence the odd combination of a dozen enthusiastic tourists and four armed park wardens on our jungle trek.
An hour later, we climbed a ridge and there it was - a vast, squat, black mound belching and spurting red lava several hundred metres into the sky.
As the lava turned to fall, it hardened into black hail which crashed onto the sides of a brand new mountain that was rising from the surrounding plain by several metres a day.
We all stood, transfixed, watching the eruption less than 400m away.
To the north, a solid grey river of lava vanished into the jungle and the distant plains.
When the wind changed during the night, hard flakes of ash fell like rain onto our tents.
The park authorities - who already take a growing number of visitors to see the gorillas in the area - have been quick to entice more tourists to see the new volcano that is now two weeks old, and likely to start slowing down very soon.
The atrocious roads and the poor security mean that Virunga remains something of an acquired taste - most tourists are either adventurous backpackers tempted briefly over the border from Rwanda, or the very wealthy who come in by helicopter or private plane.
The security threat in Virunga is real and constant - with 17 soldiers killed in the park this year and more than a 140 in the past decade.
But there have been no incidents involving tourists, who are only taken to the southern tip of the park, close to the town of Goma.
As the numbers grow - the park is hoping for almost 4,000 visitors this year - it is tempting to see the steady rise in tourism as another sign of increasing stability in DR Congo, where the economy is likely to grow by 6.5% this year.
It is certainly encouraging. The park's revenues are shared with local communities who are provided with schools, clinics and advice on how to protect the forest itself.
But officials are wary of reading too much into the mini-boom in tourism, noting that to the outside world eastern DR Congo remains "a war zone" and that although there are some signs of positive change, the country is a long way from emulating neighbouring Rwanda's dramatic transformation.
When our group emerged from the jungle, a crowd of local village men were waiting to offer their services as porters - for about $20 (£13) for a round trip - to the next batch of tourists.
Inside DR Congo
The Democratic Republic of Congo covers 2,344,858 square km of land in the centre of Africa, making it the 12th largest country in the world.
Eastern DR Congo is awash with a variety of different rebel groups – some have come from neighbouring countries, while others have formed as self-defence groups. Many are taking advantage of the lack of a strong state to seize control of the area's mineral riches.
DR Congo has abundant mineral wealth. It has more than 70% of the world's coltan, used to make vital components of mobile phones, 30% of the planet's diamond reserves and vast deposits of cobalt, copper and bauxite. This wealth however has attracted looters and fuelled the country's civil war.
Despite the country's size, transport infrastructure is very poor. Of 153,497km of roads, only 2,794km are paved. There are around 4,000 km of railways but much is narrow-gauge track and in poor condition. Waterways are vital to transport goods but journeys can take months to complete. Overcrowded boats frequently capsize, while DR Congo has more plane crashes than any other country.
With an estimated population of 71 million, DR Congo is the fourth most populous country in Africa. Some 35% of the population live in cities and the capital Kinshasa is by far the largest, with more than 8 million inhabitants. DR Congo has around 200 ethnic identities with the majority of people belonging to the Kongo, Luba and Mongo groups.
Given its size and resources DR Congo should be a prosperous country, but years of war, corruption and economic mismanagement have left it desperately poor. In 2011 it lags far behind in many key development indicators, with average life expectancy increasing by only 2 years since 1980, after a period when it actually fell during the mid 1990s.