Egypt unrest: Tahrir Square protesters remain defiant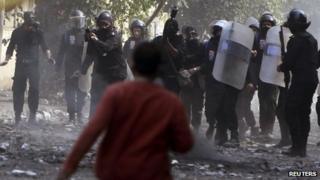 As details of Egypt's military leader's speech filtered through to the crowds, protesters groaned and shook their heads.
"Irhal" or "leave" was the chant that soon went up, directed at Field Marshal Hussein Tantawi and the other generals who have ruled the country since February.
Tens of thousands of people had answered calls for another mass rally in Tahrir Square to put pressure on the military for a faster transition to civilian rule.
However, many were unconvinced by the new promises made by the head of the armed forces in his 10-minute televised address.
Among the key announcements was a commitment to hold a presidential election by the end of June and continue with legislative polls next week.
"We shoulder national responsibility in exceptional circumstances. We do not seek to rule and are only doing our work for the sake of God and the nation," Field Marshal Tantawi said.
He also offered a referendum on the immediate transfer of power and said he had accepted the interim cabinet's resignation although it would continue its work until a new government was in place.
"We are not happy with this speech. It reminded us of those made by the former president, Hosni Mubarak when he didn't answer our demands," said Tamer Lokman, standing in the muddy centre of the square.
He said he planned to remain at the site along with many others carrying thick blankets into their makeshift tents in preparation for a long, cold night.
"After all, we had to hear Mubarak speak three times during the revolution before he got what we wanted," he said.
'Solidarity'
Groups that played an important role in this year's uprising such as the April 6 Youth Movement and the Youth Revolution Coalition continue to demand an immediate hand over to "a national salvation government".
Tuesday's demonstration came after the most deadly violence between police and protesters since the uprising that ousted Mr Mubarak. Some said this had motivated them to return to the streets.
"I came out to show solidarity with my brothers who were wounded and killed and to bring victory for the revolution," said Mustafa Yousef, whose arm was still in a sling because of injuries he sustained in January.
The clashes continued late into the night, with men on motorbikes rushing those who had been hurt to makeshift clinics and a line of waiting ambulances.
Souvenir sellers now sell surgical masks and plastic glasses alongside the Egyptian flags saying "we love Egypt". They are meant as protection against the white clouds of tear gas used by security forces on streets leading to the nearby ministry of interior.
The violence adds to a more negative atmosphere in the square.
"This feeling is very different compared to the revolution in January or February," said protester Marwa Nabil.
"We were more united back then. There was a sense of euphoria. Now we've had lots of bad experiences between people of different ideologies and backgrounds. There's been a lot of anger and disappointment."
Competing visions and political divisions are re-emerging in the response to the latest developments.
Only a small selection of political forces took part in several hours of crisis talks with the ruling military. They include the former head of the Arab League, Amr Moussa, the liberal Wafd party and the best organised political group, the Muslim Brotherhood.
Although it has been very critical of the armed forces, the Brotherhood, which is in a strong position, opposes any delay to the legislative vote.
"There is no other way to satisfy people except through elections. More appointments will not resolve anything," said one member, Amr Numan. "By June we should have an elected parliament and an elected civilian president through democratic means."
Questions also remain about the response of the majority of Egyptians who have not joined the latest demonstrations but have seen schools and offices shut because of renewed security fears.
Analysts suggest that the concessions made in Field Marshal Tantawi's speech, and its patriotic references, were designed to appeal to them.
"There is a big gap between what the protesters want and what the military are prepared to offer but we might also see a disconnect with other Egyptians," says Shadi Hamid of the Brookings Doha Centre.
"Many of them want elections to take place next week and a return to normalcy".