Zimbabwe PM Morgan Tsvangirai breaks wedding taboo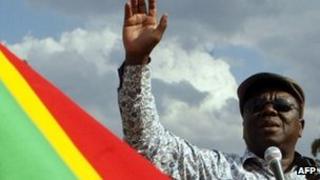 Zimbabwe's Prime Minister Morgan Tsvangirai has broken a local taboo and married in November.
Culturally it is feared a November wedding will bring a couple bad luck.
But the PM wed businesswoman Locadia Tembo in a traditional ceremony on Monday, paying a bride price of $36,000 (£23,000) and 10 cows.
His first wife, Susan, died when they were involved in a car crash not long after he had joined President Robert Mugabe in a unity government in 2009.
The two leaders signed a coalition pact following the previous year's disputed elections, which were marred by widespread violence.
White wedding request
The first hint that Mr Tsvangirai was thinking of tying the knot came at a weekend rally of his Movement for Democratic Change (MDC) party in Chitungwiza, just outside the capital, Harare.
The MDC leader, 59, joked with the crowd that journalists were always writing about him having girlfriends.
"But can a bachelor be denied that right?" he asked to a roar of laughter and applause.
Ms Tembo, 39, is a commodity trader and sister of an MP in Mr Mugabe's Zanu-PF party - a source of controversy among some in the MDC.
But most MDC supporters seem happy for their leader, saying that with elections tentatively set for next year, a presidential candidate will benefit from having the help of a wife and companion on the campaign trail.
On the streets of Harare there were dissenting views, however, with some people concerned about the issue of a November wedding, which is considered a bad omen amongst Zimbabwe's majority Shona group - of which Mr Tsvangirai is a member.
"As an elder he should have led by example - they are the ones that are telling us not to marry in November," one man told the BBC.
After paying the bride price, known as lobola, to Ms Tembo's relatives at the traditional ceremony in Christon Bank, about 25km (15 miles) north of Harare, Mr Tsvangirai reportedly requested a white wedding to follow the traditional ceremony.
It is this celebration that may adhere more to Zimbabwean tradition, with indications that it will be held over the Christmas holidays.
Jameson Timba, a minister of state in the prime minister's office, told the BBC that Mr Tsvangirai would "make an appropriate announcement on his marriage plans at the right time".