Goma - between the lake and the lava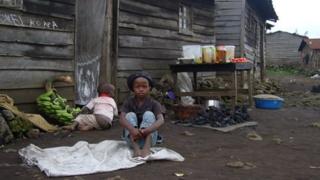 There is a crowded pleasure cruiser idling, noisily, off the shore; a well-guarded warlord wanted by the International Criminal Court living openly a few blocks up the hill (I've tried knocking on Bosco Ntaganda's door a couple of times but he hasn't invited me in yet); and in the squalid slums that form most of the town, children are dying of malaria.
If the wealth gap at home troubles you - come to Goma, in the Democratic Republic of Congo, and see what happens when you mix two decades of conflict, a collapsed state, and vast mineral wealth.
I drove here from neighbouring Rwanda - a tiny country that screams ambition and focus from every hilltop. I stopped for coffee at a smart new cafe on the roadside in Ruhengeri, a thriving town where tourists now flock to see the nearby mountain gorillas. I did the same 10 years ago - in rather different circumstances.
It took nine hours to get across the border into Congo - minus our luggage. It was partly our fault I admit, but I can report that the bureaucratic instincts of the country are as sharp and long-winded as ever.
Goma itself is noisy and frantic. The wooden bicycles that used to clog the town's dirt roads are still here, but they are now vastly outnumbered by motorbikes. A few roads are being repaved - as so often in Africa by teams of local workers with Chinese foremen in charge - and the mobile phone companies are - as elsewhere - the only ones that seem able to afford smart new buildings. The aid workers are less visible these days, so is the UN, which still maintains a vast peacekeeping operation in the region. Sandwiched between Mt Nyiragongo and Lake Kivu, Goma - and its familiar rhythm of cool mornings, hot afternoons and evening rain showers - seems to have changed less than I anticipated.
As for the lava that swept down from the volcano in 2002 - it's been chipped away, built on top of, turned into walls and generally forgotten about.
Speaking of walls - almost every vertical space in Goma seems to be plastered with pictures of men in suits and ties staring gloomily at passersby. It's election time in DR Congo - for the presidency and for local MPs. The logistics are staggering, as are the enthusiasm, chaos and - in some quarters - the violence and intimidation. I'll be blogging about the election in more detail soon. In the meantime, is it significant that the only candidate showing his teeth, or any sort of grin, on an election poster I've seen appears to be the incumbent President Joseph Kabila?