DR Congo: Profiles of Kabila, Tshisekedi and Kamerhe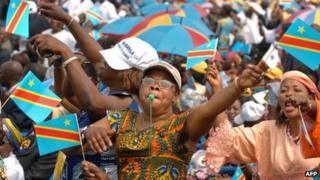 Joseph Kabila has been declared the victor of the Democratic Republic of the Congo's presidential election. His closest rivals Etienne Tshisekedi and Vital Kamerhe have cried foul and claimed there was widespread rigging. The BBC's Thomas Hubert in the capital, Kinshasa, profiles the three men.
Joseph Kabila
"He is young. He represents the future," Joseph Kabila's supporters said as he handed in his application to run for a second term in September.
At 40, the incumbent is the youngest candidate, although he has been in power for 10 years.
He was a low-profile military commander when his father Laurent-Desire Kabila was assassinated in 2001, and was handpicked by the presidential inner-circle to lead DR Congo as it was being torn apart by half a dozen warring armies.
He then went on to win the country's first democratic election since independence in 2006.
President Kabila has most backing in the east, where he was born.
Voters in Western provinces gave him very little support in the 2006 poll and many opposition activists accused him, without proof, of being a national of neighbouring Rwanda, which had twice invaded its much larger neighbour.
Mr Kabila spent his childhood in Tanzania and spoke better kiSwahili and English than the languages most spoken in Kinshasa - French and Lingala, which he had to learn on the job.
He has kept a low profile, only breaking his absence from the public eye to launch his campaign at a three-hour press conference on 18 October - six weeks before polling day.
"We won't lose this election. I'm very confident in our people, they have witnessed the ongoing sacrifice and efforts," he said.
Mr Kabila's campaign slogan has been the "Five building sites of the republic", which refers to the government's infrastructure projects - especially the rebuilding of roads and power stations.
But many Congolese complain that the pace of social development is too slow.
The president has acknowledged this, saying he has a debt to settle with Congolese voters and they should give him another term to let him repay it.
Etienne Tshisekedi
Born in the central Kasai region in December 1932, Mr Tshisekedi - at the age of 79 - is the oldest candidate.
He studied law under Belgian colonial rule. His political career took off with the country's independence in 1960, when he began a string of high-ranking appointments in the central government as well as in the short-lived secessionist Kasaian administration.
A minister during the dictatorial rule of the late Mobutu Sese Seko, Mr Tshisekedi went into opposition in 1980 when Mr Mobutu decided to cancel all elections.
As leader of the Union for Democracy and Social Progress (UDPS) party, he has been a constant opponent of successive governments party ever since.
When Mobutu was forced to open his government to the opposition in the early 1990s, Mr Tshisekedi became prime minister twice in two years.
He vacated the office on both occasions after bitter disputes with Mobutu.
Mr Tshisekedi's party did not take up arms during the successive wars that followed the fall of the Mobutu regime in 1997, earning him significant support from a population traumatised by years of conflict.
After boycotting the 2006 election, which he claimed were rigged in advance, Mr Tshisekedi has vowed to go all out this time to win.
For some, he has gone too far by declaring himself president before the vote.
"The Congolese people are sovereign in this country and has proclaimed me president a long time ago," he said, when launching his campaign on 11 November.
His critics say that such radical statements could incite violence.
His regular absences from the country have fuelled speculation about his health.
Mr Tshisekedi has a strong following in his native Kasai region and in Kinshasa.
His supporters and those of Mr Kabila have clashed along ethnic lines in the south of DR Congo, where many Kasaians have migrated.
The UDPS has developed a presence in the south, but not everywhere.
Vital Kamerhe
Now an opposition candidate, Mr Kamerhe, 52, is a former ally of President Kabila.
A founding member of the presidential PPRD party, Mr Kamerhe managed the president's election campaign in 2006.
He then became speaker of the National Assembly, until he clashed with the presidency over a secret pact allowing Rwanda to send troops into eastern DR Congo to pursue rebels in early 2009.
A native of the eastern Kivu region, Mr Kamerhe then broke away to form the Union for the Congolese Nation (UNC).
At 52, he is a seasoned politician and academic with a good command of French, English, as well as the four official languages of DR Congo.
He has presented himself to voters as the Congolese version of former Brazilian President Ignacio Lula da Silva.
"I'm convinced that with its geo-strategic position and its natural and human resources, the Democratic Republic of Congo, which currently looks like a sleeping elephant, will wake up just like Brazil," he says.
His campaigning style is innovative, with rallies in the poorest slums and interactive sessions where the public can ask him direct questions.
But many opposition supporters still regard him as too close to Mr Kabila.