Swaziland denies Queen Dube evicted from royal palace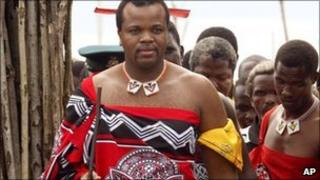 A senior Swazi royal official has denied reports that King Mswati III's 12th wife, Nothando Dube, has been evicted from the palace.
Queen Dube told South Africa's Sunday Times newspaper she was ordered to "pack and leave" leave more than a week ago after she pepper-sprayed a guard.
But royal governor Timothy Velabo Mtetwa told the Times of Swaziland she was away visiting her grandmother.
Last year, Queen Dube, 23, denied allegations that she had an affair.
In the interview with the privately owned Sunday Times, Queen Dube said she had had an argument with a security guard who refused to let her out of the palace last Saturday.
She wanted to take the youngest of her three children, aged two, to hospital after she had injured herself while playing - but the guard said she was not allowed to leave, the report says.
'Vigilant eye'
"[He] threatened to hit me, saying I am not going anywhere with my child, who was bleeding from a deep wound," the newspaper quotes Queen Dube as saying.
She said an altercation ensued and she was "physically prevented" from leaving the palace.
"I had to protect myself so I [pepper]-sprayed him in the eyes," Queen Dube told the Sunday Times.
The matter was reported to the Queen Mother, who apparently decided that Queen Dube had been disrespectful and had to be kicked out.
"I couldn't even take all my stuff, because they just said 'you have to pack and leave now'," she is quoted as saying.
Her children remained at the palace, the report says.
But Mr Mtetwa told the privately-owned Times of Swaziland it was "entirely untrue" that Queen Dube had been evicted.
The governor said, culturally, when someone was kicked out from royal circles, two people were mandated to carry their belongings out, but in this instance Queen Dube left peacefully to visit her grandmother, the report says.
"The allegations by the South African newspaper are unfounded as [Queen Dube] left with her bodyguards, who are currently keeping a vigilant eye on her as she is still part of the royal family," the newspaper quotes him as saying.
Last August, Swaziland's Justice Minister Ndumiso Mamba resigned following allegations that he was having an affair with Queen Dube, who has reportedly been under house arrest ever since.
She strongly denied the allegation.
King Mswati - who is sub-Saharan Africa's last remaining absolute monarch - is presently in seclusion, as part of an annual cleansing ritual.
He is expected to come out of it in January.
Swaziland is currently facing a deep financial crisis, and has been battling to pay bills - including the wages of public sector workers.
Some Swazis accuse the king and his 13 wives of lavish spending while many of his subjects live in poverty.