Islamist Hamadi Jebali of Ennahda 'to be Tunisian PM'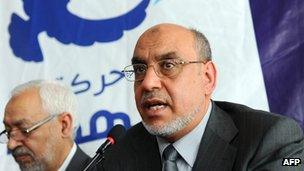 A senior official from the Islamist Ennahda party, Hamadi Jebali, is to become Tunisia's next prime minister, as part of a coalition deal between the three biggest parties, sources say.
The Congress for the Republic will hold the post of president, while Ettakatol will choose the speaker of the constitutional assembly, sources added.
Ennahda won the largest share of the vote in assembly elections last month.
The deal has not been officially announced.
The caretaker government will oversee the country until a general election, following the drafting of a new constitution.
According to the same sources, Moncef Marzouki, a veteran rights activist from the Congress for the Republic Party, is to be president while Mustafa Ben Jaafar of Ettakatol will be speaker of the constitutional assembly.
The nominations will require the approval of the constitutional assembly itself.
Last month's elections for a 217-member assembly were the first since a wave of popular uprisings in the Arab world began in Tunisia earlier this year.
In January, President Zine al-Abidine Ben Ali, was forced out amid widespread protests against his rule.
Ennahda won the most seats in October's poll, with 89, while the Congress for the Republic won 29 seats, and centre-right party Ettakatol gained 21.