Swaziland raises cash to pay 35,000 workers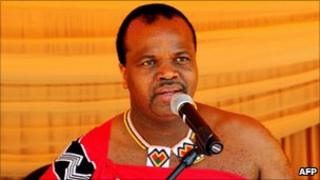 Swaziland has taken out an emergency loan to pay the wages of 35,000 public sector workers, spokesman Percy Simelane has told the BBC.
The privately owned Times of Swaziland newspaper reports that the government needs to raise more than $42m (£26m) within two days to pay its bills.
Swaziland - ruled by King Mswati III - has been in a deep financial crisis this year.
It has not yet accepted a $355m bailout from neighbouring South Africa.
Pretoria had demanded a series of reforms - including dialogue between the government and the opposition - as a condition for the loan.
Mr Simelane told the BBC the government had raised a loan from Swazi banks and other companies to pay wages this month.
"I don't expect it to happen again," he said.
'Archaic'
Finance Minister Majozi Sithole told the Times of Swaziland that the government had only about $22m in its salary account, while its monthly obligations amounted to $64m.
There was panic among public sector workers last week after a leaked government memo said salary payments due to civil servants later this month would be delayed to next month because of a shortage of money.
The government says its financial problems have been caused by the global economic crisis and a sharp decline in the landlocked kingdom's income from the Southern African Customs Union (Sacu), following a new tariff deal.
But critics say profligate spending by King Mswati and his 13 wives is the main cause of the crisis.
At the weekend, Swaziland's top Anglican cleric, Bishop Meshack Mabuza, called on King Mswati - sub-Saharan Africa's only absolute monarch - to give up political power in favour of a democratic government.
Bishop Mabuza told the BBC that Swaziland's "archaic" system of government was responsible for the financial crisis.
There have also been fears that state hospitals could run out of anti-retroviral drugs (ARVs) because of a lack of money to buy them.
Swaziland, with a population of 1.2 million, has one of the highest HIV/Aids rates in the world. About 230,000 people are HIV-positive, of whom 65,000 depend on state hospitals to give them free ARVs.
Political parties are banned in Swaziland, where King Mswati has been in power since 1986.
He cancelled his silver jubilee celebrations this year following protests against the worsening economic situation.