East Africa drought: Cholera outbreak in Kenya camp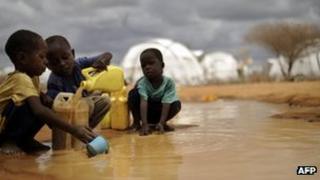 There has been an outbreak of cholera in the world's largest refugee camp in Kenya, home to Somalis fleeing famine and conflict, the UN has said.
It may have started among new arrivals at the camp where one person has died and there are now 60 cases, it says.
The aid operation at Dadaab camp was scaled back last month after the abduction of two aid workers.
Kenya blames Somali Islamist militants for the kidnappings and has sent troops into Somalia in pursuit of them.
But the al-Shabab group, which controls most of central and southern Somalia, denies it is behind the abductions.
Nearly half a million people have fled Somalia to seek assistance in Dadaab over the last two decades.
Rains and flooding
The UNHCR refugee agency says insecurity is still hampering aid efforts in the area, despite the deployment of 100 Kenyan policemen in the last month.
It says the situation has been exacerbated by the outbreak of the waterborne disease.
The UNHCR and other aid agencies have set up cholera treatment centres in the camp for severe cases.
"Rains and flooding had affected the trucking of water to parts of the camps, and we fear some refugees resorted to using unsafe water from flooded areas," the UNHCR said in a statement.
The drought in East Africa is the worst in 60 years, with Somalia worst affected.
Some areas have been declared famine zones, and many thousands have fleeing their homes to seek assistance over the borders.
Kenya's incursion has contributed to a slowing in flow of Somalis to Dadaab, but many are still arriving in Ethiopia.
A fifth refugee camp is being set up in Ethiopia and more than 7,600 recent arrivals from Somalia are now encamped at the transit centre, the UN said
Two Spanish women working for the medical charity Medecins Sans Frontieres (MSF) in Dadaab were kidnapped in October.
Other abductions include a Kenyan driver also seized from Dadaab, a British woman taken from a coastal resort and a French woman who suffered from cancer.
French authorities say she has since died in Somalia.
Somalia has not had a functioning central government for more than 20 years and has been wracked by fighting between various militias.
Al-Shabab has not previously seized foreigners from its own territory, but armed gangs on land and pirates on the sea are known for kidnappings - demanding huge ransoms for the release of their captives.
The group has vowed to retaliate against Kenya for sending troops into Somalia. It has accused the Kenyan army of killing civilians.