South African ex-convict battles with crime temptation
By Pumza Fihlani
BBC News, Johannesburg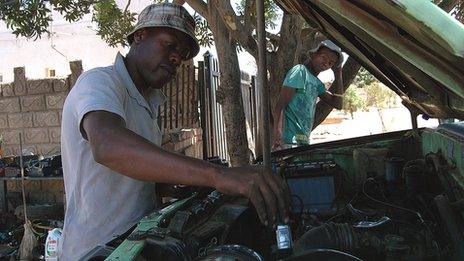 "I've been trying to get my life together but it is harder than I thought it would be. Not a lot of people want to hire someone with a criminal record and no experience," he tells me.
"Some people still see me as a criminal."
Ngwanyila lives in Soshanguve, a township outside the capital, Pretoria. Like many townships in this country, many people are unemployed, have few formal skills and are poor.
He doesn't have any qualification so he spends his days as an apprentice mechanic - trying to learn the art of fixing cars and panel beating.
He does not get paid for this but he says it gives him something to do.
But the temptation to rejoin the gang he was a member of since he was 18 is getting stronger, he says.
"They know where I work and sometimes come here and brag to me about money they made from a recent job. It's not easy to hear," says Ngwanyila.
When asked if he would ever return to crime, he pauses before answering.
"I am not sure. I know I don't want that life but it is not easy. Poverty is very real - it's what I live every day,"
Some 80% of South African convicts commit further offences after leaving prison - a figure the Department of Correctional Services told the BBC it is trying to reduce.
Experts blame the high statistic on a lack of job-placement programmes or half-way houses.
So Ngwanyila has no-one to help him - no parole programme to join, no youth organisation to turn to for help.
Local prison officials say this responsibility falls outside their scope and resources. South Africa simply cannot afford such programmes, some argue.
"We can only do so much for them while they are in prison. Once they leave, they struggle to get back on their feet, they become frustrated and go back to crime," says Tsepho Ndou, head of the Emthonjeni Youth Centre - the juvenile facility where Ngwanyila served his sentence.
He says they have seen an increase in re-offenders coming back to Emthonjeni and says he hopes Ngwanyila will not be one of them.
"It is heartbreaking to see children as young at 14 getting sucked into this bad cycle and never being able to find a way out, some just become criminals," says Mr Ndou.
Ngwanyila sometimes works on three cars a day - his boss Mduduzi Molekwa has been a mechanic for 12 years and says Ngwanyila is one of his hardest workers.
When I ask Mr Molekwa what made him decide to take him under his wing, he answers simply:
"We all make mistakes. We all need a second chance," he says, handing a wheel spanner to his apprentice.
Ngwanyila might have the freedom to go where he wants, whenever he wants but he says he is still not free.
His parole conditions include signing a register at a nearby police station each month so officials can keep track of him - this to him is a reminder that his life is still not completely his own.
Apart from finding a paying job, Ngwanyila's immediate goal is earning his community's trust.
"I have to work hard every day to earn people's trust. I realise now that I have a very long way to go," he says.
His parents are struggling to look after him and his two younger siblings - it's enough to drive anyone to crime, he says.
The only thing standing between him and prison bars is the fear that if he were to return to prison, he would never leave.
"This is it for me - I know that I won't get many chances. I owe it to myself and my family to stay focused," he says, as his grease-covered hands tighten a nut.
Related Internet Links
The BBC is not responsible for the content of external sites.