Swazi king must give up power, says Bishop Mabuza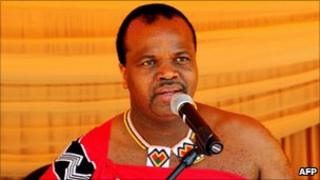 Swaziland's top Anglican cleric, Bishop Meshack Mabuza, has called on King Mswati III to give up political power in favour of a democratic government.
Bishop Mabuza told the BBC that Swaziland's "archaic" system of government had plunged the country into a deep financial and economic crisis.
A government memo says salary payments to civil servants this month will be delayed because of a shortage of money.
King Mswati, who has 13 wives, is sub-Saharan Africa's only absolute monarch.
He is widely accused of profligate spending, but cancelled his silver jubilee celebrations this year because of Swaziland's cash crisis.
Swaziland has so far refused to accept a $355m (£218m) loan from South Africa to help it pay bills, after Pretoria demanded political and economic reforms.
'Not crumbled'
Bishop Mabuza, the Anglican Archbishop of Swaziland, told the BBC that Swaziland's problems would not end while the monarchy wielded political power.
"The answer really lies in regime change in terms of the traditional, feudalistic, archaic form of government," he told the BBC's Focus on Africa programme.
"It has to be replaced with multi-party democratic rule."
A leaked government memo - signed by the acting accountant general, AF Mabila - said the November salary payments of civil servants had been moved to December.
Government spokesman Percy Simelane told the BBC the cabinet had been discussing the issue since Saturday, but no decision had as yet been reached.
"We are in a very bad position, but I wouldn't say we have crumbled," he said.
"We can still pull ourselves together, like all the nations that are experiencing the same thing."
The government says its financial crisis has been caused by the global economic crisis and a sharp decline in the landlocked kingdom's income from the Southern African Customs Union (Sacu), following a new tariff deal.
Aid package
But Bishop Mabuza, who is due to step down next month, said these were "excuses".
"The economic constraints were here even before the global economic meltdown because there has hardly been any economic growth," he said.
"The country has really reached the point of collapse."
Mr Simelane said Swaziland would accept South Africa's aid package - more than three months after Pretoria made the offer.
Explaining the delay, he said: "Securing a loan like this one is not an occasion. It's a process."
Last week, South Africa's public broadcaster, SABC, reported that Swaziland's attempt to obtain a loan from a Middle Eastern country had failed.
It had been trying to avoid taking money from South Africa because of the conditions Pretoria had attached - including deep cuts in expenditure and dialogue with the opposition, correspondents say.
There have been fears that state hospitals could run out of anti-retroviral drugs (ARVs) because of a lack of money to buy them.
Swaziland, with a population of 1.2 million, has one of the highest HIV/Aids rates in the world. About 230,000 people are HIV-positive, of whom 65,000 depend on state hospitals to give them free ARVs.
Political parties are banned in Swaziland, where King Mswati has been in power since 1986.
Critics accuse the royal family of lavish spending, despite the fact that many of his subjects languish in poverty.
The economic crisis has sparked protests against King Mswati's rule, but analysts say the monarchy still commands the respect of most traditional Swazis.