Don't write off Julius Malema yet - South African media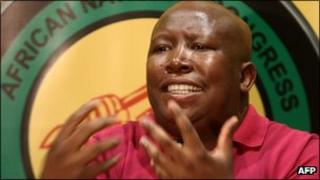 Not all of the voices raised in the South African media were happy about the "downfall" of ANC youth leader Julius Malema.
Several commentators felt that the disciplinary committee in suspending him from the party for five years had been too harsh. Others believed President Jacob Zuma may have made a tactical error in sending Mr Malema into the political wastelands.
And one writer was of the opinion that it was far too early to say that Mr Malema was finished in politics.
Safiyya Goga (Letter to the editor) on East Coast Radio website
"It's too easy to scapegoat him... Silencing Malema only allows us to remain complacent, settled, comfortable with the inequalities."
Andy4real (readers' opinions) on News24 website
"The media is being used to brainwash people to believe Malema is the enemy. Zuma has swapped his machine gun for the state machinery. It's all about his survival".
Nalini Naidoo in The Witness
"For me, Malema's suspension leaves a vacuum for the unemployed youth who ignore the political hypocrisy he displays in speaking for the poor on the one hand while living in the lap of luxury on the other. For many of them the future holds no hope and Malema articulated their desperation."
Editorial in Business Day
"As bleak as the future appears for Mr Malema, hobbling him is not a panacea for Mr Zuma and the ANC's troubles either. Mr Malema has worked hard at selling himself as the true representative of the poor, uneducated and unemployed youth, a sizable and disgruntled constituency in South Africa that will not go away just because their figurehead has been sent to the naughty corner."
David Lucas in Times Live
"Malema did not hold a gun to anyone's head. He must have put it to the leadership what he was going to say at rallies and other functions, they should have made sure that it was not derogatory or put the ANC in a bad light... So is Julius Malema guilty or was he led on to self-destruct himself politically?"
Prof Tinyiko Maluleke on SABC
"I think even some of his opponents are surprised at the harshness of the sentence... one wonders why they didn't just go ahead and expel him... I mean, in five years time he will have to re-invent himself, if he is to come back into politics."
Catherine Shulze on SABC
"South Africa's inequalities will always be a breeding ground for such political radicalism. So I think it is only a matter of time perhaps before another Julius Malema steps in to pick up the mantle again."
"The ANC leadership had grown convinced that Malema was trouble for the party going forward... [He] may well prove a political threat to the ANC in the future from outside its structures."
"In handing out the heavy sentence to Malema, the ANC has decided that it is better for Malema to piss outside their political tent instead of inside. The danger here is that if Malema was left inside the ANC political tent, he could be managed in such a way that no further damage is suffered by the 99 year-old organisation."
Bruce Gorton in Times Live
"Under Malema, the ANC Youth League grew powerful, but it was the power of a drunken elephant - mostly destructive, disreputable and unlikely to produce anything intelligent... Now the ANCYL is in a position to take a new direction. It can take this as a chance to revitalize itself as not simply being influential but credible."
Editorial in The New Age
"Under Malema, the ANC Youth League could never play a constructive role in the alliance or in society. Let's hope that the new leadership of the league, if it gets to that, will be more willing to engage the ANC in a constructive way about dealing with the issues facing young people."
Editorial in Beeld
The bombastic and racist Mr Julius Malema is political history now that the ANC has punished him and other ANC youth leaders... With Malema at the forefront, the ANC's youth league was certainly the country's most divisive factor."
Elvis Masoga in The Citizen
"The five year suspension that he got fully indicates that his political ambitions have been doomed and frustrated. On the other side, it is a blessing for President Jacob Zuma in light of his ambitions to be re-elected ANC president."
Editorial in Daily Dispatch
"Malema is down, but it's still too soon to count him out of South African politics... Regardless of whose decision it was to go to bare knuckles, Malema can now challenge Zuma knowing this is the final round and there can be no draw. It has been a dirty fight and it will get dirtier."
BBC Monitoring selects and translates news from radio, television, press, news agencies and the internet from 150 countries in more than 70 languages. It is based in Caversham, UK, and has several bureaux abroad.