ANC's suspension of Julius Malema 'victory for Zuma'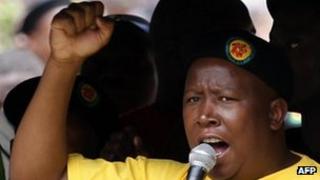 This is a victory for President Jacob Zuma. It clears the way for him to pursue his ambition of serving a second term when the ANC leadership contest takes place in a year's time.
Even though the disciplinary process allows for an appeal, it is hard to see how the recalcitrant Julius Malema can make a comeback from this.
Many observers have said this process has always been more about politics than ANC rules transgressions. This was also about an ANC - due to turn 100 years in January - flexing its muscles.
ANC Secretary General Gwede Mantashe gloated that the ANC is like an elephant, saying: "It is big but when it moves, it can move very fast."
He was reacting to a statement by Julius Malema made at the start of his hearing in which he said the ANC "is not like a pig, it does not eat its own children".
Ironic elements
Given all the talk about animals in this rough and dirty political fight, take notice of other ironic elements of the saga.
Not so long ago, Mr Malema publicly stated that he was prepared to "kill for Zuma".
He said this in the period leading up to the leadership battle in Polokwane at the end of 2007.
He was adamant that he wanted the former President Thabo Mbeki to be replaced by Mr Zuma.
He accomplished that mission with flying colours. The intellectual Mr Mbeki lost the election and it was won by the self-taught Mr Zuma.
In another irony, the man who, as chairman of the disciplinary committee, led the process against Mr Malema is Derek Hanekom.
Mr Hanekom is a white Afrikaner who, earlier in the year, had testified in defence of Mr Malema in a court case where Mr Malema was accused of singing an old liberation struggle song Dubul' iBhuni (Shoot the Boer).
Mr Hanekom stated he never felt threatened by the lyrics. He wanted ANC supporters to be allowed to continue singing the controversial song.
The judge ruled against Mr Malema, Mr Hanekom and those who agreed with them by declaring that the song constituted "hate speech".
So, how does it happen that the same man who supported Mr Malema in a high-profile court case, is the same man who hands down a five-year suspension of Mr Malema six months later?
That's ANC politics. Keep your friends close and your enemies closer.
Moving landscape
Another complexity is that President Zuma has managed to get Mr Malema out of the way ahead of the Mangaung conference in December 2012. This does not necessarily translate into a fait accompli for Mr Zuma's second term.
The same people who will have helped Mr Zuma to get rid of Mr Malema are exactly the same people who will be calling for Mr Zuma's head in a year's time. In the present day South African political landscape, not everything is what it seems.
The ANC has drawn a line in the sand. Mr Malema once told me that even if he gets expelled from the ANC his "blood will remain black, green and gold" - the colours of the ANC.
Professor Sipho Seepe, an independent political analyst, said "the ANC presented a watertight case" and that "Malema without the ANC party machinery is weak".
The appeal process is unlikely to yield the desired result for Julius Malema. It is often said a week in politics is a long time. But five years can be light years away.
This was not the night of the long knives. It most probably was the night of the long spears.