Libya ex-PM 'faces torture threat' if he leaves Tunisia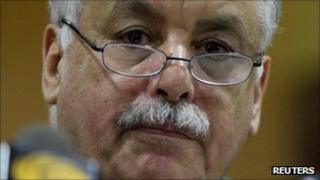 Tunisia should halt plans to extradite Libya's last Gaddafi-era PM back home, Human Rights Watch (HRW) says.
Al-Baghdadi al-Mahmoudi would be at a real risk of torture, the US-based group said.
The extradition request was made by Libya's new government, the National Transitional Council (NTC), which has pledged to treat all detainees fairly.
But HRW said the NTC did not have adequate enough control of security forces to guarantee his safety.
"Sending suspects to a country where there's a real risk of torture is prohibited under international law," said Joe Stork, HRW deputy Middle East director.
"To extradite al-Mahmoudi to Libya at this time, when the NTC cannot guarantee his safety, would place him at grave risk of abuse."
Fears for safety
The Tunisian authorities arrested Mr Mahmoudi in September for illegal entry into the country.
Although a sentence of six months imprisonment for that offence was overturned on appeal, Mr Mahmoudi remained in Tunisian custody following an extradition request from Libya.
On Tuesday, an appeals court in Tunis ordered he be extradited to Libya.
Mr Mahmoudi has reportedly expressed fears for his safety if he is returned to Libya.
His lawyer, Mabrouk Korchid also voiced concern.
"If any harm comes to him in Libya, the Tunisian justice system will be a party to that," he said.
Mr Mahmoudi served as prime minister from March 2006 until he fled after Col Muammar Gaddafi's forces lost control of the capital, Tripoli.
HRW said it had documented recent cases of mistreatment in detention in Tripoli and Misrata, as well as apparent summary executions of suspected Gaddafi supporters by anti-Gaddafi fighters.
The apparent killings in custody of Muammar Gaddafi and his son Muatassim on 20 October by members of armed groups fighting in Sirte raise particular cause for concern about Mr Mahmoudi's treatment, HRW said.
In addition, the pressure group said, Libya's new authorities had not yet established a functioning justice system that could ensure that detainees received due process.
Since the fall of the Gaddafi government in late August 2011, local brigades, militias and other security groups aligned with the NTC have arrested thousands of people and held them without proper legal review, HRW said.
'Abuse in detention'
"The new authorities in Libya have not yet exerted sufficient control over the many local armed groups to ensure that al-Mahmoudi would remain in safe hands," Mr Stork said.
"Human Rights Watch found serious cases of abuse in some detention facilities that must be addressed, including beatings and the use of electric shock torture."
International law prohibits extraditing or otherwise transferring persons to a country where they face likely torture, HRW said.
Tunisia ratified the Convention against Torture in 1988.
Another human rights organisation, Amnesty International, last week urged Tunisia not to extradite Mr Mahmoudi, saying he risked being subject to "serious human rights violations" in Libya.
But the Libyan prosecutor-general's office has sent an invitation to Amnesty International and other international and regional human rights organisations to monitor the detention and trial of the former prime minister, the Libyan News Agency (WAL) reported.