ANC to announce disciplinary verdict on Julius Malema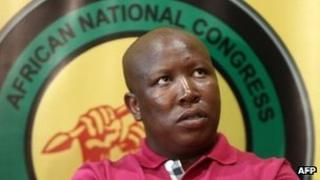 South Africa's governing ANC has found youth leader Julius Malema guilty of a minor offence at the start of his disciplinary hearing.
Mr Malema, 30, is accused of "sowing divisions" in the party and bringing it into disrepute by calling for a change of government in neighbouring Botswana.
Once a close ally of President Jacob Zuma, Mr Malema has become one of his strongest critics.
The case is seen as a test of Mr Zuma's leadership of the party.
The ANC Youth League leader fell out with Mr Zuma after accusing the president of not doing enough for poor black South Africans - his main support group in the 2009 elections which brought Mr Zuma to power.
Apology
Derek Hanekom, who heads the ANC disciplinary hearing, said Mr Malema was guilty of disrupting a national meeting and was suspended from the party for two years - a sentence which was itself suspended.
The verdict on the other charges is still to come.
There is tight security outside the ANC headquarters in central Johannesburg but no sign of the large crowds of ANC Youth League members seen when the hearing opened in August.
Thousands of Mr Malema's supporters clashed with police and some were seen burning T-shirts bearing Mr Zuma's face.
In September, Mr Malema's lawyers tried to have the charges against him quashed - they presented 22 arguments saying he was the victim of a political witch-hunt and the charges were unconstitutional.
But these were all rejected by the ANC's disciplinary committee.
If found guilty, Mr Malema could be expelled from the party, as he is already on probation after criticising Mr Zuma last year. Five other ANC Youth League leaders face similar charges.
Mr Malema has already apologised for saying the government in Gaborone was a "puppet" of Western powers.
He is also being investigated by an anti-corruption unit over allegations of irregularities in the awarding of government contracts to companies in his home province of Limpopo. He denies any wrongdoing.
Mr Malema wants Mr Zuma to nationalise South Africa's rich mines and seize white-owned land. He has praised President Robert Mugabe's land reform in neighbouring Zimbabwe.
Correspondents say the hearing sets the scene for next year's party leadership battle.
Mr Zuma's ambitions to secure a second term as ANC president could be enhanced if Mr Malema is pushed into the political wilderness, some experts say.
If, however, the maverick youth leader emerges with his ANC membership intact, President Zuma could face an uncertain future.
The youth leader has long been a controversial figure.
He played a central role in helping Mr Zuma take control of the ANC from his predecessor Thabo Mbeki in 2007 and campaigned strongly for him in the 2009 election.
He once vowed to "kill for Zuma" and was also disciplined for saying a woman who said she had been raped by Mr Zuma had had "a nice time". Mr Zuma was acquitted of the charges.
In May 2010, he was made to apologise publicly following a controversial trip to Zimbabwe where he declared the ANC's support for President Mugabe at a time when Mr Zuma was mediating between the country's coalition members.
Mr Malema was also chastised for defying party orders by singing an apartheid-era song, "Shoot the Boer [white farmer]". A court has since ruled the song is hate speech, and banned it altogether.