DR Congo fury over Etienne Tshisekedi jail break threat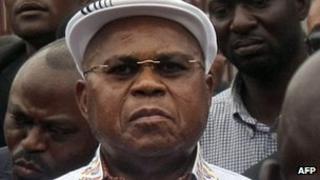 Threats made by Democratic Republic of Congo opposition leader Etienne Tshisekedi could amount to treason, the government has said.
Mr Tshisekedi said that he considered himself president and called on the authorities to free his supporters arrested during recent protests.
He urged people to organise jail breaks if they were not freed by Tuesday.
Rights groups in DR Congo have warned of a deteriorating security situation ahead of elections on 28 November.
It will be the second poll since the end of a brutal five-year war which drew in neighbouring countries. Mr Tshisekedi boycotted the 2006 election, saying it had been rigged.
Ultimatum
During the live telephone interview broadcast on the pro-opposition RLTV station on Sunday evening, Mr Tshisekedi, 78, said that for the rest of the electoral process the authorities should report to him as "the majority of the people are with me".
"I'm giving a 48-hour deadline for all opposition prisoners to be released. Past that deadline, I will ask the population to attack prisons and free them, and as president, I'm ordering prison guards not to resist," he said.
On Monday, Mr Tshisekedi's Union for Democracy and Social Progress (UDPS) party confirmed that it was their leader who had given the interview.
He spoke in the Lingala language spoken in the west of DR Congo where he draws most of his support.
UDPS officials told the BBC they were ready to march on the main prison in the capital, Kinshasa, on Tuesday.
In response, DR Congo's Information Minister Lambert Mende closed down RLTV pending an investigation by the media regulator, the electoral commission and the judiciary.
He told the BBC that Mr Tshisekedi's comments could amount to treason.
"We have lots of worries about the mental health of the UDPS leader," Mr Mende said.
UDPS demonstrators have already clashed with police in the streets of Kinshasa in recent months.
Mr Tshisekedi is seen as the main challenger to President Joseph Kabila.
There are nine other presidential candidates and nearly 19,000 candidates running for 500 parliamentary seats.
The country is the size of western Europe but has poor infrastructure and few transport links, making election logistics challenging for organisers.