Kenya army warns of al-Shabab donkeys in Somalia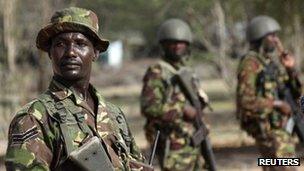 Kenya's military spokesman has said large groups of donkeys in Somalia will be considered "al-Shabab activity" following reports the militants are using the animals to transport weapons.
Maj Emmanuel Chirchir used Twitter to warn Kenyans not to sell their donkeys to the Islamist group.
Kenya sent troops into Somalia to establish a buffer zone, after accusing al-Shabab of cross-border kidnappings.
Al-Shabab, which controls southern Somalia, denies the allegations.
It has accused Kenya of planning a full-scale invasion of Somalia.
However, no such attacks have yet occurred.
He has also posted video which he says shows a small al-Shabab boat being sunk, killing 18 militants and warned aircraft not to land in the Islamist-held town of Baidoa, following reports that al-Shabab had been flying in new supplies of weapons.
In his latest series of tweets, the Kenyan military spokesman said that the price of donkeys had risen from $150 (£100) to $200 following the increased al-Shabab demand for the animals.
"Any large concentration and movement of loaded donkeys will be considered as al-Shabab activity," he wrote, suggesting they would be targeted by Kenyan firepower.
"Selling Donkeys to al-Shabab will undermine our efforts in Somalia," he continued.
BBC East Africa correspondent Will Ross says it is not clear whether al-Shabab are using donkeys because the muddy roads are impassable for vehicles or to avoid detection from aircraft.
Maj Chirchir also said that any "unauthorised flying over the region" would be considered a threat.
"All aircrafts are hereby warned not to land in BAIDOA. Anyone violating this will be doing so at their peril," he wrote.
Last weekend, the Kenyan military was accused of bombing a refugee camp, killing five people, including three children.
Maj Chirchir denied the accusation and said a Kenyan fighter jet had only hit al-Shabab positions in Jilib, killing 10 militia fighters.
People abducted from Kenya since September include a French woman suffering from cancer, who French authorities say has since died; a British woman taken from a coastal resort, whose husband was killed in the raid; and a Kenyan driver and two Spanish aid workers seized from the Dadaab refugee camp near the Kenya-Somalia border.
After two decades of civil conflict, Somalia is awash with guns, and analysts say any number of groups could have carried out the kidnappings - including pirate gangs.
Al-Shabab, which is linked to al-Qaeda, is locked in a battle with the weak UN-backed interim government for control of the parts of the country which are currently outside its power, particularly the capital, Mogadishu.
Related Internet Links
The BBC is not responsible for the content of external sites.