Nigerian gunmen kill churchgoers in Zonkwa, Kaduna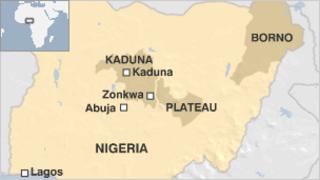 Riots have broken out in a northern Nigerian town after a church was attacked by unknown gunmen, leaving at least two dead and 14 wounded.
The shooting happened in the Kaduna state town of Zonkwa, where hundreds were killed after April's election.
Kaduna is divided along political, ethnic and religious lines and the BBC's Nura Ringim in the state says it is thought to be a revenge attack.
Thousands of Muslim Hausas and Fulanis were forced from their homes in April.
Our correspondent says that some of those attacked had vowed reprisals, as had the Boko Haram Islamist militant group, based further north-east in Borno state.
He says some 3,000 people are still living in a camp in the state capital, Kaduna, after their houses were burnt in the Zonkwa post-election clashes.
Following the attack on the church, the state governor was forced to abandon his attempt to visit the town after Christian youths blocked the roads with burning tyres.
They have also reportedly attacked a mosque which is under construction in the town but there are no reports of any casualties from the riots.
A police spokesman told our correspondent that some members of the congregation shot while performing a night vigil were in a critical condition.
Kaduna mirrors Nigeria as a whole, with the south largely inhabited by Christian groups, while Muslims form a majority in the north.
In April's elections, Patrick Ibrahim Yokowa became the state's first Christian governor.
He belongs to the People's Democratic Party, which governs at the federal level.
The opposition Congress for Progressive Change (CPC) gains much of its support from Muslim groups.
More than 1,000 people have been killed in recent years in neighbouring Plateau state in a deadly spiral of revenge attacks between rival groups similarly split along ethnic, religious and political lines.