The slow boats to South Sudan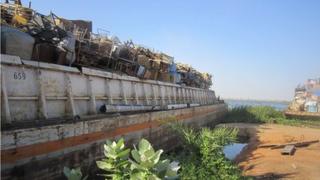 John Latuma is one of the tens of thousands of South Sudanese stranded in Sudan as they try to make their way home to their newly independent country.
He is stuck in a makeshift camp in Kosti, a port on Sudan's White Nile hoping to get a barge nearly 1,450km (900 miles) down the river, through the swamps and over the border to Juba, South Sudan's capital.
"People are stagnant here - no food, no treatment, no drugs - the situation is very bad," he says.
South Sudan seceded from the north in July, and over the last year more than 340,000 of its new citizens have made the trip home.
But the flow of returnees has slowed, due to money shortages, the dangerous journey and a lack of transport.
Mr Latuma went to Sudan's capital, Khartoum, 20 years ago during the long north-south civil war, like many South Sudanese.
He has given up his house and job and is now staying in unenviable conditions with some 12,000 other South Sudanese at Kosti, about 300km south of Khartoum, in a way-station designed to hold 1,500 people.
There are not enough toilets, and there are only two clinics providing health services.
One man, Yacob, complains there are not enough drugs.
Although he is on crutches, he insists on hopping through the camp to show me a place he is particularly indignant about, where the shallow pool of slimy water stinks.
Children at risk
The aid agencies would like to put up more buildings to house the influx, but the Sudanese authorities do not want the camp to become permanent.
The numbers here have grown because there are not enough barges to transport all the people wishing to leave.
The journey itself is difficult too: 6,000 people leave at once, and face at least three weeks travelling through the notoriously difficult Sudd swamp before they arrive in Juba.
But the gap between barges is so great some South Sudanese have been in Kosti for several months.
"Our children are complaining of a lack of education," says Alex.
"They now have a lack of knowledge. We are appealing to our government to take us home."
About 10% of the children in the camp get some education provided by aid groups.
But their existence, in particular, is a precarious one.
"There are protection issues around sexual violence for girls," says Rein Dekker, from the War Child charity.
He goes on to list a many other problems.
"There are safety issues around the river - we have had cases of drowning and bad sickness too.
"We find issues around child labour too.
"There are also kids here who are not connected to any family, they were street children already, and they joined the movement, and they ended up here and have to fend for themselves."
Now Kosti - designed as a transit point where people would spend the night before taking the barge - has become a semi-permanent camp.
When South Sudan seceded, it agreed with Sudan that its citizens would have a nine-month period to sort out their status.
But South Sudanese have already lost their Sudanese nationality, in many cases their jobs, and often struggle to get their pensions.
They simply do not know whether they will have resident and labour rights when the grace period finishes, though there have been some unofficial promises that southerners would obtain these rights.
Road, rail or barge
So many are determined to return home.
But the journey is a difficult one - and not just from Kosti.
For most of the rainy season many roads are impassable.
The easiest route by road to South Sudan reaches the town of Renk, just over the border, but thousands of South Sudanese have arrived there and for the moment have little chance of moving on easily.
There are not enough trains either, and the ride can be a dangerous one, as the railway passes through South Kordofan, where a war continues.
So for the moment the numbers arriving in South Sudan have slowed, though they are expected to increase as the grace period approaches its end.
The situation is drawing international attention.
"What I saw in Kosti was the very real human face of the ongoing problems between Sudan and South Sudan," said the UK's International Development Minister Stephen O'Brien when he visited.
He called for the transitional period to be extended and for Sudan to clarify what rights South Sudanese would have.
He also wants South Sudan to do more to look after those who make it home where many are living in very difficult conditions, with little prospect of a job.
All the same, the thousands at Kosti and sleeping rough in camps around Khartoum are adamant they want to go to South Sudan - and help build their new nation.
"I hope I will reach there, and then I can share in the development of our country, make a better life for our kids, because I am a teacher," says Martin Loro.
Both Sudan and the South are reliant on their oil revenues, which account for 98% of South Sudan's budget. But the two countries cannot agree how to divide the oil wealth of the former united state. Some 75% of the oil lies in the South but all the pipelines run north. It is feared that disputes over oil could lead the two neighbours to return to war.
Although they were united for many years, the two Sudans were always very different. The great divide is visible even from space, as this Nasa satellite image shows. The northern states are a blanket of desert, broken only by the fertile Nile corridor. South Sudan is covered by green swathes of grassland, swamps and tropical forest.
Sudan's arid north is mainly home to Arabic-speaking Muslims. But in South Sudan there is no dominant culture. The Dinkas and the Nuers are the largest of more than 200 ethnic groups, each with its own languages and traditional beliefs, alongside Christianity and Islam.
The health inequalities in Sudan are illustrated by infant mortality rates. In South Sudan, one in 10 children die before their first birthday. Whereas in the more developed northern states, such as Gezira and White Nile, half of those children would be expected to survive.
The gulf in water resources between north and south is stark. In Khartoum, River Nile, and Gezira states, two-thirds of people have access to piped drinking water and pit latrines. In the south, boreholes and unprotected wells are the main drinking sources. More than 80% of southerners have no toilet facilities whatsoever.
Throughout the two Sudans, access to primary school education is strongly linked to household earnings. In the poorest parts of the south, less than 1% of children finish primary school. Whereas in the wealthier north, up to 50% of children complete primary level education.
Conflict and poverty are the main causes of food insecurity in both countries. In Sudan, many of the residents of war-affected Darfur and the border states of Blue Nile and South Kordofan, depend on food aid. The UN said about 2.8m people in South Sudan would require food aid in 2013. The northern states tend to be wealthier, more urbanised and less reliant on agriculture.