Kenya warns al-Shabab of bombing by Twitter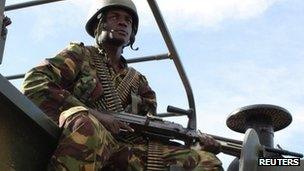 Kenya's military spokesman has warned the residents of 10 towns in Somalia via Twitter that they "will be under attack continuously".
Maj Emmanuel Chirchir clarified to the BBC that bases of the al-Shabab militia were outside those towns, and that these camps would be their target.
Kenya sent troops into Somalia in October as it blames the Islamist group for a spate of kidnappings.
Al-Shabab, which is in control of most of the south, denies the allegations.
He listed nine towns in one of his tweets: Baidoa, Bardhere, Dinsor, Afgoye, Buale, Barawe, Jilib, Kismayo and Afmadow. The town of Baidoa was listed twice.
Maj Chirchir said it was difficult to fit all the information into the 140 characters allowed in a Twitter message.
He told the BBC most al-Shabab bases were on the outskirts of the towns the group controlled.
"We're not attacking towns - I want to make that clear - we're attacking al-Shabab camps - all we're saying is that people in Somalia, [should] avoid being close to al-Shabab camps," he told the BBC's Focus on Africa programme.
He said the al-Shabab-controlled towns were targets because they were suspected of receiving weapons from an arms consignment carried in two aircraft that landed in Baidoa on Monday.
He said it was an operational decision and the attacks would begin "any time" from Wednesday.
His warning follows controversy over the aerial bombardment of Jilib on Sunday.
Maj Chirchir said a Kenya fighter jet only hit al-Shabab positions in Jilib, killing 10 militia fighters.
But the medical charity MSF-Holland said at least five people, including three children, died after a camp for internally displaced people was bombed.
People abducted from Kenya since September include a French woman suffering from cancer, who French authorities say has since died, a British woman taken from a coastal resort, whose husband was killed in the raid, and a Kenyan driver and two Spanish aid workers seized from the Dadaab refugee camp near the Kenya-Somalia border.
After two decades of civil conflict, Somalia is awash with guns, and analysts say any number of groups could have carried out the kidnappings - including pirate gangs.
Al-Shabab, which is linked to al-Qaeda, is locked in a battle with the weak UN-back interim government for control of the parts of the country which are currently outside its power, particularly the capital, Mogadishu.
Related Internet Links
The BBC is not responsible for the content of external sites.