DR Congo mining transparency site launched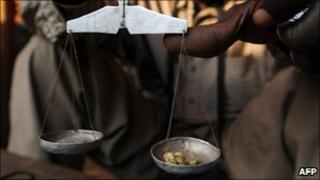 A website has been launched to promote transparency in the Democratic Republic of Congo's mining sector, which is plagued by conflict and corruption.
The Carter Center said it helped launch congomines.org to give people more information about the mining sector, including contracts and payments.
Hundreds of mining documents and maps will be published on the site, it said.
DR Congo is rich in gold, diamonds and coltan, used in mobile phones, but many mines are controlled by armed groups.
The people of DR Congo are among the poorest in Africa, even though the country is rich in resources.
Elizabeth Caesens, the head of the Carter Center's mining governance project in DR Congo, said www.congomines.org would make it easier for the public to track developments in the industry, including money allocated for development.
'Opaque industry'
"Our main target is Congolese actors who sometimes lack access to information about the more technical aspects of mining governance, such as mining contracts, revenue payments [and] production figures, " she said.
The BBC's Thomas Hubert in the capital, Kinshasa, says many people describe the industry as opaque - especially after state-owned mines changed hands earlier this year in controversial secret deals.
The site will try to give the public easier access to documents - whether they are government reports or records of a New York Stock Exchange-listed company with interests in a DR Congo mine, our reporter says.
The Carter Center - a rights organisation founded by former US president Jimmy Carter - launched the site with funding from the government of Belgium, the former colonial power.
Eastern DR Congo has been ravaged by conflict for at least 15 years, with both the army and rebel groups accused of using the fighting as cover to exploit the area's mineral wealth.
Regional analysts say the international demand for coltan is one of the driving forces behind the conflict, and the presence of rival militias in the country.
In May, the government lifted a ban on mining in eastern regions, worst affected by DR Congo's long-running conflict.
Foreign companies are major investors in DR Congo.